Main Menu · Search · Current Issue ·Contact ·Archives ·Centennial ·Letters to the Editor ·FAQs
In this issue's John Harvard's Journal:
Restored - Thinning Ranks - Big Thinking About Science - Harvard Portrait: Everett Mendelsohn - Completing the Campaign - Berkowitz Appeals Tenure Denial - An Accident Waiting to Happen? - Sampler of Shrubs and Vines Planned by Arboretum - Russia 2000 - Radcliffe: Stasis and Movement - Brevia - A Nod to Ham Rice - Riches Richly Rewarded - The Undergraduate: Home Ground - Sports: Tornado on Ice - Sports: Wrapping Up Winter's Games
---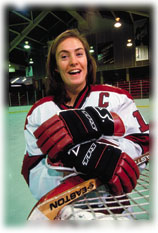 A. J. Mleczko at the goal. Photograph by Jim Harrison
Tornado on Ice
Olympian A.J. Mleczko leads the Crimson to a number-one ranking.
At the winter olympics in Nagano, Japan, the U.S. and Canadian women's ice hockey teams battled for the first Olympic gold medal ever awarded in their sport. The Canadians held a 7-6 edge from previous games, including all the world championships, and in the first-round encounter at Nagano, they seemed headed for another victory, going up 4-1 with only 11 minutes left. Then, stunningly, the U.S. women rained six unanswered goals into Canada's net for a jaw-dropping 7-4 victory, and went on to beat them again, 3-1, in the gold-medal game (see "Crimson and Gold on Ice," May-June 1998, page 88). One of the victorious Americans, A.J. Mleczko '97 ('99), says, "What they did and what we did brought women's hockey to a new level."
It may also have brought Harvard women's hockey to a new level. Two players who skated on opposite sides of the puck at the Olympics--Mleczko and Canadian Jennifer Botterill '02--now play on the same line for Harvard's varsity. Their teammate, defender Angela Ruggiero '02, was another U.S. gold medalist. And the Mleczko/Botterill line includes sophomore Tammy Shewchuck, who nearly made the Canadian Olympic squad.
Mleczko, Shewchuck, Botterill, and Ruggiero were four of the top five scorers in the nation at midseason; such talent, backed by the Crimson's overall depth, made Harvard (16-1, 14-1 ECAC) the top-ranked team in the country. They had outscored opponents 107-21, and on average took 25 more shots per game. There were blowouts like a 10-0 destruction of Mankato State and a 15-0 laugher at Colby. But a better measure of Harvard's excellence came in their January game against a Princeton squad who arrived in Cambridge flying high, fifth-ranked in the nation and on a three-game winning streak. The Tigers departed in a tail-dragging mood after a 6-0 shutout.
Cocaptain Mleczko (pronounced Muh-less-ko) plays center for her explosive line, where she is both an offensive catalyst and a scoring machine. She returns to college after taking two years off to train for the Olympics. Before her leave, A.J. (Allison Jaime) had already become Harvard's all-time leading scorer with 91 career goals and 52 assists for 143 points; now, as a senior, she's simply adding to that record. "I'm seen as a scorer here because I play with great people who can set me up," she says. "But I think of myself as a playmaker; you'll see I have many more assists than goals [15 goals, 36 assists at midseason]. On our line, when anyone scores, it's likely that the other two got assists."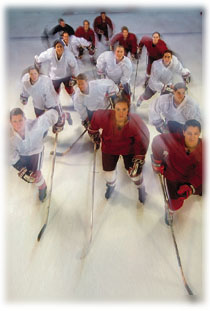 The Harvard women's team on the ice at Bright Hockey Center. Photograph by Jim Harrison
Mleczko, who also skates for Harvard's power-play unit, brings a formidable array of gifts to the ice. "A.J. has great vision--she reads everything so well," says her coach, Katey Stone. "The great players don't go after the game, they let the game come to them, and find the holes when they are there." Indeed, Mleczko has superb anticipation, allowing her to be in the right place at the right time. "I don't consider myself a flashy player," she says. "I'm not real fast and don't have great stick skills." But she does have tremendous hands (a great asset in face-offs), and her 5-foot, 11-inch, frame allows her to use a long stick: Mleczko often cantilevers out to intercept a pass an opponent thought was out of her range. "Unbelievable reach," says Stone. "She could be three steps behind somebody and take the puck away from them because of her extension." Leverage also adds zip to Mleczko's slap shots; she feels more effective from outside than at close range, and could score even more goals if she weren't so eager to distribute the puck.
The tall center plays excellent defense and enjoys penalty-killing work. Her older sister, "Winkie" Mleczko '95, a standout defender, captained the Crimson icewomen in her senior year, when A.J. was a sophomore. Both were born on Nantucket (they also have a younger brother, Jason), where the family currently lives. Father Tom Mleczko was a football, hockey, and lacrosse coach who fell in love with ice hockey when managing his college team at Bowdoin. Two decades ago there were no ice rinks on Nantucket, so the family moved to New Canaan, Connecticut, where the sisters laced on figure skates at age two. "We'd kick and scream and cry until we finally hobbled off the ice," Mleczko recalls. In Connecticut the family lived only two houses away from the New Canaan Winter Club, where her father coached a hockey team. "I saw my dad's team play when I was six and thought, 'This figure-skating stuff is for the birds,'" she says. "Hockey seemed like more fun."
The youngster began playing with boys' teams at her father's club and at New Canaan Country School. "The deal was that, when the checking started, at age 12 or 13, my parents would pull me out," she laughs. Playing as the only girl among boys on the ice, "Other teams would target me, with that ponytail sticking out, and try to paint the boards with me," she says. "It's a macho thing little boys go through. They don't want a girl to be better than they are." In fourth grade young Allison adopted the name A.J. and cut her hair short.
At the Taft School in Watertown, Connecticut, Mleczko switched from defense to forward and played on a girls' team that won the New England Championships in all three of her years there. She also played lacrosse, but the ice hockey season has become so long that playing both sports at Harvard would mean missing too much lacrosse. (It has become even longer since Mleczko's freshman year. Then the hockey season lasted 23 games, including playoffs, ending the last weekend in February; this year, a 30-game regular season plus five possible playoff games could last nearly to the end of March.)
The two years of Olympic training were an even longer season of sorts, and one that Mleczko relished. "It was a lesson in how important chemistry is," she says. "It's so rare that you could get a group of 20 women who would want to spend six months together, 24 hours a day--that's the edge we had over the Canadians. We knew that if we didn't have heart, a team that wanted it more than we did would just take it away, even with less talent. We had four lines that worked together. The Canadians went to two lines in the last period of the gold-medal game, but we played four lines all the way through."
In those Olympic years, Mleczko had some hardships to endure to keep her college eligibility--she passed up grants and stipends from USA Hockey and the U.S. Olympic Committee, as well as "Operation Gold," a $15,000 cash bonus offered to all American gold medalists. When the U.S. team was photographed for the Wheaties box, five athletes, including Mleczko, were missing: although there was no cash payment, the NCAA considers the photograph a commercial endorsement. When invited to opening day at Yankee Stadium, Mleczko had to buy her own ticket into the park, and for the Boston Red Sox home opener, she could attend the brunch but, according to the NCAA, could not eat. "Nobody is making it easy to do the right thing," she says. "People say, 'You'll miss your window, your 15 minutes of fame,' but I don't play hockey for money. I love to play and there is something special about college sports."
One of the most special rewards of Mleczko's Olympic run came, she says, when she and her teammates noticed that "both girls and boys were asking for our autographs. When I was a kid that never would have happened." Throngs of other young autograph seekers queued up at Bright Hockey Center after Harvard's shutout of Princeton.
This historic season is a far cry from the tenth-place ECAC team that Mleczko played on as a junior; the current squad has so much young talent that the star predicts her scoring records will "be broken really quickly, and that is great--think what it says about women's hockey." The American history concentrator has no idea what she wants to do next, although the 2002 Winter Olympics loom invitingly. "I hope to play with the national team again," she says. "But this is my last chance to play with a Harvard jersey on."
~ Craig Lambert
---
Main Menu · Search ·Current Issue ·Contact ·Archives ·Centennial ·Letters to the Editor ·FAQs