Main Menu · Search · Current Issue ·Contact ·Archives ·Centennial ·Letters to the Editor ·FAQs
In this issue's John Harvard's Journal:
Restored - Thinning Ranks - Big Thinking About Science - Harvard Portrait: Everett Mendelsohn - Completing the Campaign - Berkowitz Appeals Tenure Denial - An Accident Waiting to Happen? - Sampler of Shrubs and Vines Planned by Arboretum - Russia 2000 - Radcliffe: Stasis and Movement - Brevia - A Nod to Ham Rice - Riches Richly Rewarded - The Undergraduate: Home Ground - Sports: Tornado on Ice - Sports: Wrapping Up Winter's Games
---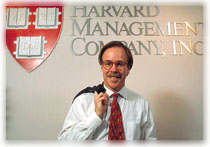 Jack Meyer oversees the performance-based compensation system for Harvard's money managers. JON CHASE
Riches Richly Rewarded
Harvard management company's performance-based compensation system has yielded sharply higher paychecks for its most successful senior money managers. For fiscal year 1998, HMC's five most highly compensated portfolio managers and its president, Jack R. Meyer, M.B.A. '69, earned a total of $45.4 million, up some $16 million from the prior year. That increase reflects the third consecutive year of 20 percent-plus annual returns on endowment investments, sharply better than market indexes against which HMC benchmarks its portfolios (see "Unlucky Number?" November-December 1998, page 99).
Leading the parade was Jonathon S. Jacobson, M.B.A. '87, an equity manager whose large portfolios earned an annualized return of 42.7 percent over the last three years, earning him, in turn, $10.2 million during his final year at HMC. As reported, Jacobson set up a private investment firm, Highfields Capital Management, last July 1; Harvard is a client, with an initial $500 million entrusted to Highfields ("Brevia," May-June 1998, page 84). Not far behind were David Mittelman, a fixed-income manager ($9.8 million), and equity manager Phillip Gross ($9.7 million).
The compensation, which reflects performance relative to market benchmarks over time--and therefore can be reduced if investment returns falter--was described by industry recruiters as very competitive with that of private money-management firms like Highfields. Such enterprises tend to pay more than mutual funds, whose stars can still have multimillion-dollar years.
---
Main Menu · Search ·Current Issue ·Contact ·Archives ·Centennial ·Letters to the Editor ·FAQs