Main Menu · Search · Current Issue ·Contact ·Archives ·Centennial ·Letters to the Editor ·FAQs
In this issue's John Harvard's Journal:
Restored - Thinning Ranks - Big Thinking About Science - Harvard Portrait: Everett Mendelsohn - Completing the Campaign - Berkowitz Appeals Tenure Denial - An Accident Waiting to Happen? - Sampler of Shrubs and Vines Planned by Arboretum - Russia 2000 - Radcliffe: Stasis and Movement - Brevia - A Nod to Ham Rice - Riches Richly Rewarded - The Undergraduate: Home Ground - Sports: Tornado on Ice - Sports: Wrapping Up Winter's Games
---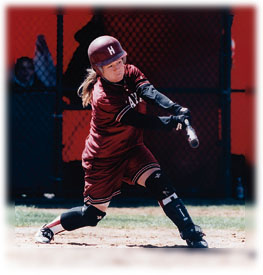 Financial aid and women's sports stand to benefit from infusions of Campaign cash--the result of matching-grant challenges. TIM MORSE
Completing the Campaign
The $2.1-billion University Campaign entered its final year with $1.96 billion of gifts and commitments in hand as of December 31. With its aggregate goal seemingly well within reach, the campaign's managers continue to focus on underfunded priorities such as new endowed professorships, financial aid, information technology, and library renovations (see "Home Stretch," July-August 1998, page 64).
Sensing that potential donors at all income levels like a horse race, fundraising challenges are proliferating near the campaign's end. The University-wide Women's Matching Fund, announced last May, so quickly disbursed its $15 million of grants (which matched gifts of $25,000 to $250,000 from women for any campaign purpose) that it was increased to $19 million. It ultimately matched gifts from 238 women, who funded initiatives ranging from scholarships to a lecture series to research support for every school, the Arnold Arboretum, and the art museums. A separate $5-million Challenge for Women's Athletics, announced at the same time, matches any gift dollar-for-dollar. So far, that fund--created by Albert H. Gordon '23, M.B.A. '25, LL.D. '77, Maggie and Gordon Gray Jr. '65, Katherine B. Loker, and Barbara and Thomas F. Stephenson '64, M.B.A. '66--has stimulated $2.5 million of new giving to endow women's sports. And the Graduate School of Education, aided by an anonymous Chair Challenge and the Women's Matching Fund, received endowments for six professorships last year. That exceeded the number of endowed professorships created at the school during the prior 30 years, raising the total by more than half, to 17 faculty positions.
So it comes as little surprise that a challenge is now being launched to fill out a top priority of the Faculty of Arts and Sciences (FAS) --its goal of $200 million in new endowment for undergraduate financial aid. Some $173 million has been raised, but with the recent increase in scholarship grants (see "Autumn Windfall," November-December 1998, page 95), administrators would clearly like to exceed their target. To that end, a group of leading donors--so far including Charles Bauer '42, Thomas H. Lee '65, Lief D. Rosenblatt '74, J.D. '79, Anne and James Rothenberg '68, M.B.A. '70, Jeff C. Tarr '66, Warren Wilkinson '41, Sandy and Stephen M. Waters '68, M.B.A. '74, Byron R. Wien '54, M.B.A. '56, and Brian D. Young '76--have put up $13 million to encourage a scholarships sale. Donors of $125,000 will have their gifts matched, meeting the minimum for a named scholarship. In a sale-within-a-sale, donors from the class of 1984 and more recent years can have gifts of $50,000 matched.
With other objectives still unfilled--about half the 40 new professorships FAS seeks, or the University Fund, meant to support academic initiatives identified by the president--it seems likely that the development staff on Mount Auburn Street will organize additional matching challenges before the campaign's end, making them a permanent tool in Harvard's fundraising kit.
---
Main Menu · Search ·Current Issue ·Contact ·Archives ·Centennial ·Letters to the Editor ·FAQs