Main Menu · Search · Current Issue ·Contact ·Archives ·Centennial ·Letters to the Editor ·FAQs
In this issue's John Harvard's Journal:
Restored - Thinning Ranks - Big Thinking About Science - Harvard Portrait: Everett Mendelsohn - Completing the Campaign - Berkowitz Appeals Tenure Denial - An Accident Waiting to Happen? - Sampler of Shrubs and Vines Planned by Arboretum - Russia 2000 - Radcliffe: Stasis and Movement - Brevia - A Nod to Ham Rice - Riches Richly Rewarded - The Undergraduate: Home Ground - Sports: Tornado on Ice - Sports: Wrapping Up Winter's Games
---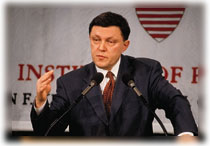 Two prominent Russian politicians visited Harvard this winter. Grigory Yavlinsky (above) is a presidential candidate for elections in 2000. Former prime minister Sergei Kiriyenko (lower left) hopes for a seat in parliament. Photograph by Stu Rosner
Russia 2000
Two liberal Russian politicians, on separate visits to Cambridge, offered their views on their country's current economic and political situation.
Former prime minister Sergei Kiriyenko, 36, a guest of the Davis Center for Russian Studies, said that popular leaders in Russia have fostered unrealistic expectations among the people for quick and painless economic reform. "I believe that there are no irresolvable economic problems," Kiriyenko told a crowd of several hundred on December 7. "The biggest problem is that we have underestimated the time for the evolution of consciousness. You can't shorten this."
Kiriyenko was dismissed by Russian president Boris Yeltsin during the country's debt crisis last August, after serving only five months as prime minister. His specific recommendations for reform include a reorganization of Russia's debt, a program of public education in the realities of economic transformation, and entry of the country's healthiest industries into the world market. He is currently forming a liberal coalition and plans to seek election to the Russian parliament.

Photograph by Jon Chase
Longer established on the Russian political scene is Grigory Yavlinsky, 46, the country's leading democratic reformer and the only liberal candidate for the Russian presidency in 2000. In a December poll, Yavlinsky ranked second in the race among candidates for the position (though sometimes he is third and sometimes fourth; see "Forum," page 33, for more on Russia). Leader of the Yabloko party in the Duma, Russia's lower house of parliament, Yavlinsky spoke at the Kennedy School of Government's ARCO Forum on December 14, addressing the question "Who Lost Russia?"
A longtime critic of the Russian, U.S., and European governments for believing, until last year's crisis, that low inflation, a stable exchange rate, and Yeltsin as president were enough to enable democracy in Russia, Yavlinksy stressed that economic and political reforms must go together. "Capitalism which is not limited by civil society, by a juridical system, by laws, is like a wild animal destroying everything around him," Yavlinsky said. He counts tax reform, land reform (creation of private property), reform of the banking system, and restructuring of the national debt among the steps Russia must take along the path to economic recovery. In the political arena, he says, what's needed is a new president. Asked by a freshman whether the Russian people and the Russian economy can wait until the year 2000, Yavlinsky responded with a Russian saying he translated as "Whoever you will choose, you cannot take him back." Earlier, he had likened Yeltsin to the sleeping pilot of a giant, destinationless airplane, with 158 million passengers whose luggage consists of chemical, nuclear, and biological weapons. But now Yavlinsky responded gravely: "I know people want to change things immediately. I have nothing to offer. They must wait."
---
Main Menu · Search ·Current Issue ·Contact ·Archives ·Centennial ·Letters to the Editor ·FAQs