MATEP MEMORIES: The long-running saga of the Medical Area Total Energy Plant has ended as a footnote in the University's financial report for fiscal year 1998. The power plant, completed in 1980, was intended to secure reasonably priced electricity, steam, and chilled water for the medical school and affiliated hospitals through high-efficiency cogeneration. Instead, it became mired in regulatory delays and cost overruns that kept it from meeting financial objectives, despite its efficient operations. As reported ("Sold Off," November-December 1997, page 66), MATEP was purchased by Commonwealth Energy System. The final tally shows Harvard receiving $139.2 million; after accounting for the depreciated value of the plant--$85.2 million--the University recorded a $54-million gain on the sale. Color photograph by Stephen Sherman
Watertown-Bound
For all the excitement about Harvard's land purchases in Allston (see "Harvard's New Acreage," September-October 1997, page 70), one part of the University already domiciled there is looking farther afield. Harvard Business School Publishing Corporation, now based in rented quarters on Western Avenue across from the school's campus, will relocate its 230 staff members this August to Charles River Square (as the Watertown Arsenal has been rechristened for its conversion into office space). The fast-growing operation, which produces books, the Harvard Business Review, business case studies, newsletters, audio and video tapes, and interactive products, was the most important contributor to the University's $78.2 million in publishing revenue last year.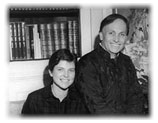 Jana M. Kiely and Robert J. Kiely Harvard News Office
After Adams House
Robert J. Kiely, Ph.D. '62, Loker professor of English, and Jana M. Kiely, M.T.S. '79, Ph.D. '94, master and co-master of Adams House since 1972, will step down at the end of the academic year, following the graduation of Maria C. Kiely '99, the youngest of their four children. In a December letter to the community, the Kielys wrote, "The House has meant to us everything we honor in a university: creativity, high academic achievement, independence of spirit, celebration of difference, and the distaste for pomposity." During their tenure, Adams House flourished as a center for the arts, as the Kielys recruited performing artists as tutors, and was noted for pioneering full coeducation and for welcoming gay and lesbian students. Consistent with its traditions, Robert Kiely strongly opposed the College's adoption of randomized housing assignments. Following their move to North Cambridge, he will continue teaching, and Jana Kiely will step up her educational and community work at St. Paul's Parish.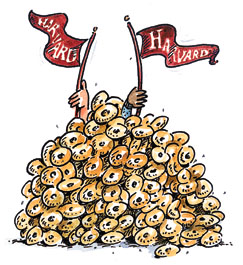 Front-page reading-period item in the Crimson: Zayde's Bagel and Bake Shop having gone bust on short notice, Harvard Dining Services quickly lined up Zeppy's Baigel Bakery of Randolph, Massachusetts, as its new supplier, with a standing order for 980 dozen per week. HDS purchasing manager Steve Elkins relayed word that Zeppy's owner had received phone calls lauding the new bagels from eight students, "50 percent of them from New York." Illustration by Lynne Foy
Science Stars


George M. Whitesides Harvard News Office
President Clinton in December recognized two faculty members with the National Medal of Science. The annual award, administered by the National Science Foundation, is the nation's premier scientific honor. George M. Whitesides '60, Mallinckrodt professor of chemistry, was recognized for a wide array of contributions in chemistry, biology, biochemistry, and materials science; an excerpt from his book with photographer Felice Frankel, Lf '92, On the Surface of Things, was this magazine's July-August 1997 cover story.
Sociologist William Julius Wilson, Geyser University Professor, whose research focuses on inner-city poverty, is one of the few social scientists to be honored with the medal. Wilson's most recent book is When Work Disappears. He teaches in both the Kennedy School of Government and the Afro-American studies department of the Faculty of Arts and Sciences.
Russian Reverberations
The Boston Globe reported in January that advisory work in Russia conducted under the auspices of the Harvard Institute for International Development is now under federal criminal and civil investigation. The work, on restructuring the post-Soviet economy, had been funded by the U.S. Agency for International Development from 1992 until it was terminated in the spring of 1997, following allegations that Nancy Zimmerman and Elizabeth Herbert profited from investments in the Russian market (see "Harvard in Russia: Conflicts of Interest," July-August 1997, page 63). According to HIID's biennial reports, Zimmerman's husband, Andrei Shleifer '82, professor of economics, and Herbert's companion, Jonathan R. Hay, J.D. '92, G '94, had served, respectively, as home-office coordinator and field coordinator of projects on privatizing state property and introducing market reforms in the Russian Federation. HIID guidelines forbid investments by staff members or their families in the countries where they perform advisory work.


Father J. Bryan Hehir Marshall H. Cohen
Nota Bene
Decanal committee: President Neil L. Rudenstine has created an executive committee to administer the Divinity School while he pursues the search for a successor to former dean Ronald Thiemann. The committee, chaired by Father J. Bryan Hehir, Th.D. '77, professor of the practice in religion and society, also includes associate deans Clarissa Atkinson, Timothy Cross, and Nancy Richardson. Although an acting dean would normally be appointed, Father Hehir is deeply involved in the work of Catholic Relief Services and so will share academic and administrative duties with the associate deans.
Honor roll: The Science and Technology Foundation of Japan will award Japan Prizes this April to two members of the department of molecular and cellular biology. Jack L. Strominger '46, Higgins professor of biochemistry, and Don C. Wiley, Ph.D. '72, Loeb professor of biochemistry and biophysics, are being recognized for their work in explaining the structures of antigens. The prizes carry an award of $200,000 for each scientist. They are intended to promote the role of science in furthering world peace and prosperity.


Jack L. Strominger Jon Chase



Don C. Wiley Jon Chase


Charles Fried Harvard Law School
Honor roll, continued: The History of Science Society, a constituent of the American Council of Learned Societies, has singled out Gerald Holton, Ph.D. '48, for his role in teaching. Holton, Mallinckrodt professor of physics and professor of the history of science emeritus, is the recipient of the first Hazen Education Prize, along with F. James Rutherford, Ed.D. '63, of the American Association for the Advancement of Science. Together, they created Harvard Project Physics, which when released in 1970 gave a prominent role for the first time to the history of science in a high-school science course. Harvard University Press has recently published paperback editions of two of Holton's classic works, The Scientific Imagination and The Advancement of Science, and Its Burdens, with new introductions.
Homecoming: Charles Fried, associate justice of the Mas-sachusetts Supreme Ju-dicial Court since 1995, has resigned effective June 30 to return to Harvard Law School, where he first joined the faculty in 1961, as professor of law. Fried served as U.S. Solicitor General from 1987 to 1989.


Norma M. Allewell Kris Snibbe
Research ruler: Reflecting the rising importance of sponsored research ($374 million worth in fiscal year 1998) and of royalties from Harvard patents and licenses in commercial use (millions of dollars annually), the University has created a new associate vice presidency for sponsored programs and technology transfer. Norma M. Allewell comes to Cambridge from the University of Minnesota, where she was professor of biochemistry as well as vice provost for research and graduate/ professional education. Holder of a Yale Ph.D. in molecular biophysics, Allewell founded Wesleyan University's molecular biology and biochemistry department in 1984.
Hot picks: Goldie Hawn and Samuel L. Jackson are the Hasty Pudding Theatricals' Woman and Man of the Year.