Main Menu · Search · Current Issue · Contact · Archives · Centennial · Letters to the Editor · FAQs
---
---
In this issue's John Harvard's Journal:
World's Fair - The 346th Unique Occasion - Honoris Causa - A Jubilation of Alumni - Commencement Confetti - Speech Excerpts: The Man Thinking Club, A Formidable Woman, and "Empires of the Mind" - Harvard in Russia: Conflicts of Interest - Tenure and Gender - Summa Circumscripta - Changes to the Core Curriculum - Salzburg Celebration - "What Is the Competition for Homelessness?" - People in the News - A Look at Institutional Ethics - For Caleb Cheeshahteaumuck and Successors - Overdue Book Returned - Campaign Checkup - Brevia - The Undergraduate: From Lonely to Alone - Live from New York - Sports
---
Tenure and Gender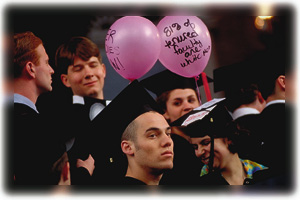 Some graduating seniors demanded more tenured women in FAS.Photograph by Jim Harrison

A tenure review, normally among the most discreet of Harvard procedures, erupted into loud, public controversy this spring. President Neil L. Rudenstine's April decision to deny tenure to associate professor Bonnie Honig, a political theorist, came at the last stage of review, after a presidential "ad hoc" committee of Harvard and outside scholars assessed the nominee's work. The government department had earlier recommended the appointment.

The action provoked a strongly critical letter from 15 tenured women from the Faculty of Arts and Sciences (FAS) and the schools of divinity, education, government, and law. Beyond urging reconsideration and praising Honig as a writer and teacher, the letter called Rudenstine's decision "especially incomprehensible given your publicly stated commitment to equality for women." Marjorie Garber, FAS associate dean for affirmative action and Kenan professor of English, seconded those sentiments in a May 1 letter to the 15 faculty members, noting that "I share your deep dismay." The Crimson obtained copies of both letters and published them on May 12.

The controversy arose shortly after publication of the University's 1997 affirmative-action plan. That document indicates that under the administration of FAS dean Jeremy R. Knowles and President Rudenstine, 20 of 84 tenure appointments (24 percent) have been of women, "a marked increase" from the 15 percent attained in the preceding five years. It also noted that the among the 84 appointments, 9 of 28 internal promotions to tenure were of women. Nonetheless, "women still represent only 11.5 percent of senior professors" in FAS--a level that "the dean of the faculty acknowledges...is low" and a rate of change that is "disappointingly slow." Examining the pool of qualified candidates by field, the report found the greatest proportionate gap between the availability of, and Harvard's "utilization" of, women scholars in the social sciences (with smaller imbalances in the natural sciences and humanities, respectively).

These data, consistent with prior reports (see "Other People's Money," January-February 1996, page 60), combined with the critical letters, were enough to bring Honig's case to the attention of the Boston Globe and the New York Times. "It is a measure of progress that not every qualified woman is summarily rejected" at Harvard, the Globe quoted Honig as saying. "The University has a troubling history with women's promotions, so I shouldn't be surprised by what happened."

In keeping with the confidentiality of the ad hoc process, Rudenstine declined to comment publicly on Honig's case. But he did respond to the 15 faculty members--a letter that also found its way into newspapers. Rudenstine noted that his decision "represents the final step" and was based on his "conscientious assessment of all the evidence." He also wrote that, although "some adverse outcomes" occur every year at the ad hoc stage, four of five women reviewed for tenure in FAS social-sciences departments during the 1996-1997 academic year were approved. He concluded, "I assure you that my commitment to the advancement of women at Harvard remains unequivocal."

Honig's plans remained incomplete in early June. Both she and her husband, economics professor Michael D. Whinston, were weighing offers of tenured positions at Northwestern University, and she was separately considering a position at MIT.
---
Main Menu · Search · Current Issue · Contact · Archives · Centennial · Letters to the Editor · FAQs