Main Menu · Search · Current Issue · Contact · Archives · Centennial · Letters to the Editor · FAQs
---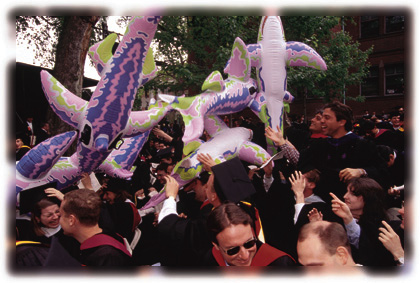 ---
In this issue's John Harvard's Journal:
World's Fair - The 346th Unique Occasion - Honoris Causa - A Jubilation of Alumni - Commencement Confetti - Speech Excerpts: The Man Thinking Club, A Formidable Woman, and "Empires of the Mind" - Harvard in Russia: Conflicts of Interest - Tenure and Gender - Summa Circumscripta - Changes to the Core Curriculum - Salzburg Celebration - "What Is the Competition for Homelessness?" - People in the News - A Look at Institutional Ethics - For Caleb Cheeshahteaumuck and Successors - Overdue Book Returned - Campaign Checkup - Brevia - The Undergraduate: From Lonely to Alone - Live from New York - Sports
---
World's Fair
"I am the opposite of a cynic about law and lawyers," said New York Times columnist Anthony Lewis '48, Nf '57, during his Law School Class Day speech on Wednesday, June 4. "I am a romantic. I think your profession has made this country what it is at its best, the freest and most wisely ordered on earth."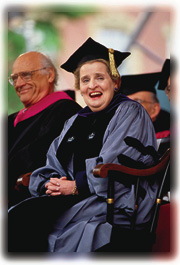 How soon they forget the height of their calling, these young lawyers. The very next day, at the formal Commencement exercises in Tercentenary Theatre, as President Neil L. Rudenstine conferred their degrees upon them and intoned the customary phrase about the "wise restraints" with which they are now thoroughly familiar, degree candidates in law threw into the air and batted around eight large plastic sharks. Rudenstine paused, then continued, "I repeat, those wise restraints that make us free." Secretary of State Madeleine K. Albright (left), seated on stage awaiting her honorary degree, guffawed at the sight of it.
Other degree candidates making statements included a pair from the School of Public Health, who appeared as the front and back ends of a comely camel named Josephine, the Smoke-free Camel. Joe Camel's sister, she explained, is "a symbol of good health and prevention because she drinks a lot of water, eats a low-fat diet, gets a lot of exercise, and, most importantly, does not smoke. That is why she is glamorous and beautiful."
Now it is true, certainly, that lawyers and tobacco are among the New World's principal contributions to the rest of the world. But several others were mentioned during Commencement week. American universities help educate many thousands of foreign nationals, for instance. Rudenstine told the twenty-fifth reunion class of 1972 on Monday that of some 18,000 full-time degree candidates at Harvard, 2,700 come from abroad, from 150 countries, and their presence drives positive changes in the classroom, the curriculum, and in research. His address on the afternoon of Commencement Day was about the internationalization of Harvard (see "Empires of the Mind").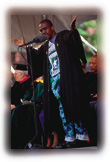 Chaponda
Signs of that internationalization, and of the diversification of Harvard and the nation, were everywhere. The baccalaureate service in Memorial Church on Tuesday included student readings from sacred texts in Hebrew, Sanskrit, and Arabic. For the first time, a Muslim minister-- Imam Talal Eid, M.T.S. '91, a candidate for a doctoral degree at the Divinity School and religious director at the Islamic Center of New England, who wore a traditional Islamic robe--offered the opening prayer at Commencement itself. The undergraduate delivering the senior English address Commencement morning was Taziona G. Chaponda '97 of Blantyre, Malawi.
The distinguishing feature of this Commencement was that it marked the Marshall Plan's fiftieth anniversary. In informal remarks at the Chief Marshal's spread at noon on Commencement Day, Secretary Albright (Wellesley '59, Ph.D. '76 Columbia) assessed how the world has changed since 1947. "We've gone from global depression to the global marketplace, from the Andrews Sisters to the Smashing Pumpkins." But fundamental American values have not changed, she said, nor Harvard's role in reinforcing them. Harvard remains excellent due to "first-class leadership, a strong and deep faculty, and a physical setting rivaled only by Wellesley's."
---
Main Menu · Search · Current Issue · Contact · Archives · Centennial · Letters to the Editor · FAQs