Main Menu · Search · Current Issue · Contact · Archives · Centennial · Letters to the Editor · FAQs
---
---
In this issue's John Harvard's Journal:
World's Fair - The 346th Unique Occasion - Honoris Causa - A Jubilation of Alumni - Commencement Confetti - Speech Excerpts: The Man Thinking Club, A Formidable Woman, and "Empires of the Mind" - Harvard in Russia: Conflicts of Interest - Tenure and Gender - Summa Circumscripta - Changes to the Core Curriculum - Salzburg Celebration - "What Is the Competition for Homelessness?" - People in the News - A Look at Institutional Ethics - For Caleb Cheeshahteaumuck and Successors - Overdue Book Returned - Campaign Checkup - Brevia - The Undergraduate: From Lonely to Alone - Live from New York - Sports
---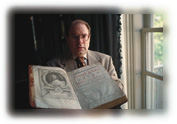 Professor Mark Kishlansky displays the find. Kris Snibbe
Overdue Book Returned
Fire consumed Harvard Hall on the night of January 24, 1764, incinerating the College's library of 5,000 volumes housed there. Only 404 library books survived. Of these, some had not yet been shelved in the building, and 144 were out on loan. Eighty checked-out volumes came back; 64 remained fugitive, and Harvard presumed they were lost forever.
In late March 1997, Mark Kishlansky, professor of history, was browsing in the James & Devon Gray Booksellers establishment in Cambridge. Knowing him to be a collector of late seventeenth- and early eighteenth-century books of English history, the dealer showed Kishlansky a calf-bound folio 15 inches tall, 10 inches broad, and 2 inches thick. It was volume three of Bishop White Kennett's Complete History of England (1706) and bore on the flyleaf the mark "Bibliothecae Harvardinae Liber." Investigations conducted by the dealer--and subsequently by Kishlansky--proved that the volume was one of the missing 64 that had been spared the flames because checked out. The library's surviving records had not revealed who had borrowed it, and the naughty borrower had not volunteered its return.
Where had it been for 233 years? All the dealer could say was that he had obtained it from someone who scours attics in New Hampshire looking for treasure.
Kishlansky thought the book rightly belonged back in the Harvard library. He approached Jeremy Knowles, dean of the Faculty of Arts and Sciences, who agreed. The bookseller had meantime found two other would-be buyers for the book--one a collector of Americana who wanted it because of its Harvard associations--but the dealer promised Kishlansky a week's grace. Knowles found a donor to buy the book, and the donor presented it, anonymously, to the library.
While Sidney Verba, director of the University Library, was rumored to be muttering about the loss of a potential overdue-book fine of useful size, the library embraced the errant tome with expressions of delight. The whole matter of the library's good fortune received media attention worldwide. The prodigal itself was on display in the lobby of Widener Library during Commencement Week, then moved to Houghton Library to become part of a summer-long exhibition of notable new acquisitions.
---
Main Menu · Search · Current Issue · Contact · Archives · Centennial · Letters to the Editor · FAQs