Main Menu · Search · Current Issue · Contact · Archives · Centennial · Letters to the Editor · FAQs
---
---
In this issue's John Harvard's Journal:
World's Fair - The 346th Unique Occasion - Honoris Causa - A Jubilation of Alumni - Commencement Confetti - Speech Excerpts: The Man Thinking Club, A Formidable Woman, and "Empires of the Mind" - Harvard in Russia: Conflicts of Interest - Tenure and Gender - Summa Circumscripta - Changes to the Core Curriculum - Salzburg Celebration - "What Is the Competition for Homelessness?" - People in the News - A Look at Institutional Ethics - For Caleb Cheeshahteaumuck and Successors - Overdue Book Returned - Campaign Checkup - Brevia - The Undergraduate: From Lonely to Alone - Live from New York - Sports
---
Honoris Causa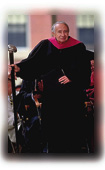 Abraham

Eight men and three women received honorary degrees at Harvard's 346th Commencement. In order of presentation, the honorands were:
Sir Edward Penley Abraham, professor emeritus of chemical pathology, Oxford University, and a pioneer in the development of antibiotics. Doctor of science: Unleashing the might of nature's healing molecules, he has unlocked a potent arsenal in the war to conquer microbes.
Jerome Bruner, Ph.D. '41, research professor of psychology and senior research fellow in law, New York University. A major figure in the launching of cognitive psychology, he was a cofounder of Harvard's Center for Cognitive Studies. Doctor of science: Visionary in the science of mind, navigator on narrative seas, he shows us how language and culture shape our world.
Janet Lippe Norwood, an economist, for 12 years U.S. commissioner of labor statistics, now a senior fellow at the Urban Institute. Doctor of laws: Independent in outlook, rigorous in analysis, she has strengthened democracy by defining the measures of how a nation lives and works.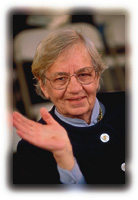 Vermeule
William Jason Morgan, Knox Taylor professor of geography, Princeton University, a geophysicist best known for his work in formulating the theory of plate tectonics. Doctor of science: An interterrestrial explorer whose groundbreaking theories have marked our planet's fundamental motions, sending a seismic wave across earth science.
Sir Henry Chadwick, a scholar of the early Christian church, an Anglican clergyman, and Regius professor emeritus of divinity at Cambridge University, he has been for decades a major figure in ecumenical dialogue. Doctor of divinity: Pastor, scholar, teacher, he reaches back across millennia to reveal a faith's foundations and illuminate its future path.
William Herbert Foege, M.P.H. '65, an epidemiologist and enemy of smallpox, Guinea worm, and river blindness, formerly director of the U.S. Centers for Disease Control, now Presidential Distinguished Professor at Emory University. Doctor of science: A towering figure in public health, crossing continents to vanquish an age-old scourge, battling to better the lives of millions.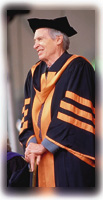 Rawls
Emily Townsend Vermeule, A.M. '54, Zemurray Stone-Radcliffe professor emerita, a classical archeologist. University marshal Richard Hunt, introducing Vermeule, said, "She is also known as a passionate fan of the Boston Red Sox--not surprising when one considers that her scholarly interests include the Bronze Age, the era in which her beloved team last won the baseball World Series." When Hunt described her as a fan, Vermeule mouthed the words, "Was. Was." Doctor of laws: A genuine Harvard Classic, she transforms her love for ancient words and artifacts into lessons that inspire, enchant, and endure.
Quincy D. Jones Jr., composer, conductor, arranger, and entrepreneur. Doctor of music: Musician, humanitarian, orchestrator extraordinaire, he bridges worlds and fuses forms in quest of deeper harmonies.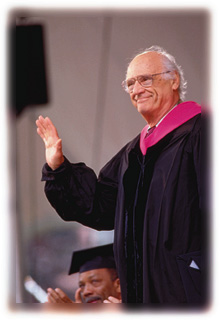 Miller
John Rawls, Conant University professor emeritus and one of the century's greatest philosophers. Doctor of laws: Rekindling the ancient search for the just society, conceiving new pathways across the disciplines, he has re-created philosophy as a human guide for the modern world.
Arthur Miller, playwright, novelist, author of Death of a Salesman-- called by one critic "the leading American play." Doctor of letters: An American original whose words compellingly chronicle our darkest moments and shine on them the light of conscience and truth.
Madeleine K. Albright, Secretary of State. Doctor of laws: Eloquent educator and forceful advocate, a stateswoman for our times who marshals her skills in the service of principle and peace.
---
Main Menu · Search · Current Issue · Contact · Archives · Centennial · Letters to the Editor · FAQs