Main Menu · Search · Current Issue · Contact · Archives · Centennial · Letters to the Editor · FAQs
---
---
In this issue's John Harvard's Journal:
World's Fair - The 346th Unique Occasion - Honoris Causa - A Jubilation of Alumni - Commencement Confetti - Speech Excerpts: The Man Thinking Club, A Formidable Woman, and "Empires of the Mind" - Harvard in Russia: Conflicts of Interest - Tenure and Gender - Summa Circumscripta - Changes to the Core Curriculum - Salzburg Celebration - "What Is the Competition for Homelessness?" - People in the News - A Look at Institutional Ethics - For Caleb Cheeshahteaumuck and Successors - Overdue Book Returned - Campaign Checkup - Brevia - The Undergraduate: From Lonely to Alone - Live from New York - Sports
---
Commencement Confetti
An omnium-gatherum of notes and statistics, vital and otherwise.
QUINCY JONES'S MIDDLE NAME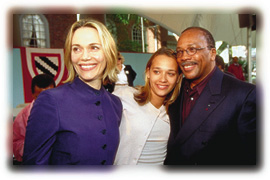 Rashida Jones '97, of Eliot House and Los Angeles, flanked by her parents, Quincy Jones and Peggy Lipton, of Mod Squad fame. Active musically at Harvard, Rashida was co-composer of this year's Hasty Pudding show. In his Class Day speech, Quincy Jones called himself "the happiest papa in the world." The father of seven children, ranging in age from 4 to 43 ("Some of my friends have accused me of being a serial father"), he came to town with an entourage, including his present wife, actress Nastassia Kinski (above, left) the heroine of Tess.
"Repeat after me," Class Day speaker Quincy Delight Jones Jr. told the audience of seniors and their families, who were standing and holding hands at his request. "On this day," Jones and the crowd recited, "I will mend a quarrel, search for a forgotten friend, fight for a principle, show gratitude to God, and tell someone 'I love you,' again, and again, and again." The music producer and composer, who would receive an honorary degree the next day, advised seniors to choose a life's work that thrills them. "Go for the goosebumps," he said.
A MULTITUDE
An estimated 29,000 people attended Commencement exercises on June 5. Perhaps 20,000 showed up for the annual meeting of the Harvard Alumni Association in the afternoon and heard speeches by President Neil L. Rudenstine and Secretary of State Madeleine K. Albright . Although Aleksandr Solzhenitsyn drew a throng for his speech, in 1978, Albright may have set a record.
THE WEATHER
The whole of Commencement week was cool and blustery. The high for the day itself was 60 degrees, which some people found cold, especially those determined to wear newly purchased Commencement ensembles designed for tropical conditions. In fact, alma mater had a springtime unusually lacking in warmth; not until June 10 did the temperature in Boston reach 80. On that day it hit 92.
COVERING THE JEFFERSONS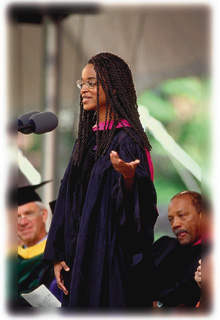 "A hearty salute to good old Admiral Stockdale," said Jamila Jefferson. At left is honorand William Foege.
Wearing the heaviest of wool sweaters under the jacket of his suit, the sort of sweater a Laplander would admire, a photographer from the New Orleans Times-Picayune focused first on Jamila Efuru Jefferson '94, J.D. '97, a resident tutor at Adams House, as she delivered the graduate English address on Commencement morning, and then turned his long lens on her family in the audience. The Jeffersons of New Orleans include father William, J.D. '72, a Democratic member of the U.S. House of Representatives; Jalila Eshe '97, also of Adams House; and Jelani Faizah, who will enter the College this fall. Two other Jefferson children are coming along behind. In her speech, Jamila recalled the immortal words of Ross Perot's running mate, James Stockdale: "Who am I, and why am I here?" "Everyone asks these two questions again and again," she said. "Graduating students, preparing for life in the so-called 'real world,' feel haunted by them."
MEAL MAN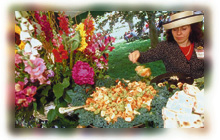 Pasta salad and rollups aplenty. Lunch for the twenty-fifth reunion class.
Harvard Dining Services has a new helmsman: 15 months after Michael P. Berry left to join Walt Disney Company, Ted A. Mayer assumed responsibility for food services on campus. Mayer comes to Cambridge from Middlebury College. He arrived June 1, just in time to help dish up to Commencement crowds 41,114 pieces of chicken, 2,800 pieces of salmon, 1,250 pieces of swordfish, and 3,800 pounds of tortellini salad. Not to mention 17,600 brownies and 12,000 ice cream bars, each with an embedded raspberry "H." Among fifteenth reunioners was Charles Storey '82, M.B.A. '89, owner of Harpoon Brewery, which provided some of the reunion suds. Here's to you, Chuck!
TOP TEACHERS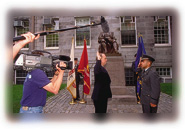 An NBC Nightly News crew films Army second lieutenant Rey Ramos '97, of Pforzheimer House and the South Bronx, at the ROTC commissioning ceremony on June 4, being sworn in by Lt. Col. (ret.) Buckner M. Creel IV, recently retired professor of military science and tactics at MIT.

Winners of the Levenson awards for teaching excellence, based on undergraduates' nominations, are Alan E. Heimert '49, Ph.D. '60, Cabot professor of American literature, Robb Moss, senior preceptor in visual and environmental studies, and Matthew Lieberman, a psychology teaching fellow. This year's Phi Beta Kappa teaching awards, which are based on nominations by undergraduate members of the society, were announced June 3 at PBK's literary exercises (where Paul Muldoon was the poet and Anne Fadiman '74 the orator). The winners are Colleen Cavanaugh, Ph.D. '85, professor of biology, Brian Hall '86, Ph.D. '93, assistant professor of economics, Graham Huggins, associate professor of English and American literature and language, and Daniel Schacter, professor of psychology.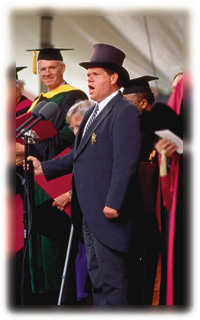 The sheriff of Middlesex County is supposed to open and close the formal Commencement exercises by banging forcefully on the stage three times with a staff and saying, "The meeting will be in order," or "The meeting is adjourned." Just that. But James DiPaola, participating in his first Harvard Commencement ex officio and clearly enjoying his role, wanted more lines. At the end he boomed: "Marshal! As the sheriff of Middlesex County, I have news! The meeting is adjourned!"
HONORED SENIORS
The Ames Awards, presented to an outstanding man and woman of the senior class for community service, as well as leadership, self-reliance, and character, went to Ruhi A. Khan '97, of Leverett House and the Sultanate of Oman, and Gene Koo '97, of Eliot House and East Meadow, New York. The Fay Prize, Radcliffe's highest undergraduate honor, awarded to the senior who "has given evidence of the greatest promise" by her scholarship, conduct, and character, went to Ann Cheng Hwang '97, of Currier House and Palo Alto.
DIVA SPEAKS
Singer Jessye Norman, D.Mus. '88, is this year's winner of the Radcliffe Medal, honoring an individual whose life and work has had a significant impact on society. She spoke at the Radcliffe College Alumnae Association's annual lunch in Radcliffe Yard on Friday, June 7. "Your sophisticated, educated selves," said Norman, "may look with a questioning eye on the joy in your heart from singing that Bach cantata in the church choir or penning the perfect haiku at the birth of your child, but this, my friends, is your soul's music. Listen to it and enjoy it, indulge in it, nurture it, dance with it, caress it, love it."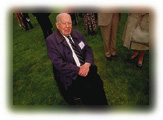 Philip Carret '17, of Scarsdale, New York, at 100, was the oldest graduate present. He marched in the alumni parade, brandishing his class sign.
POCKETLESS SECRETARY
Secretary Albright, just back from Bosnia, flew to Boston on the day before Commencement, but she arrived so late she missed her smoked salmon and lamb medallions with a rosemary and Merlot sauce at the fete for honorands that night at Annenberg Hall. She did get there in time to join in the after-dinner toasting, when she characterized the differences between Secretary George Marshall's speech 50 years ago and the one she would give next day. "George Marshall began his address with the words, 'Gentlemen of Harvard.' I will not." Marshall came with a multibillion plan in his pocket. "I don't have an Albright Plan. I don't even have a pocket." Footnote: University marshal Richard M. Hunt, Ph.D. '60, says that although Marshall's speech is often printed with a reference to gentlemen at its beginning, an audio tape of the speech as it was actually delivered contains no such salutation.
---
Main Menu · Search · Current Issue · Contact · Archives · Centennial · Letters to the Editor · FAQs