Main Menu · Search ·Current Issue ·Contact ·Archives ·Centennial ·Letters to the Editor ·FAQs


In this issue's Alumni section:
Foreigner at Radcliffe - Success, 25 Years Out - Young at Harvard - Voters' Choice - Mount Harvard Club - Recordbreakers - Medalists Three - Preservationist - Sister Act - Yesterday's News
---
For more alumni web resources, check out Harvard Gateways, the Harvard Alumni Association's website
---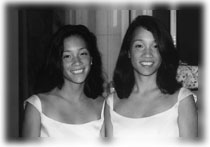 Ming Chen (left) and her sister, Wah Chen. Aileen Lee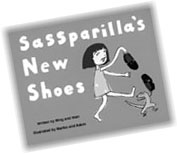 Sister Act
Sassparilla's New Shoes (E.M. Press) a picture book written by Ming Chen '92, M.B.A. '98, and her twin sister, Wah (Columbia '92), begins with a little girl lamenting that all her shoes are hand-me-downs from her older sister: "Manuella always gets them new, I only get them when she's through." Accompanied by her omnipresent lizard sidekick, The Fink, Sassparilla imagines all the footwear she would like to own--including platform shoes ("to dance all day"), galoshes, too ("to splash and play"), genie shoes ("so I can fly"), and karate shoes ("to kick the sky".)
Ming Chen's dream, she says, was to be "published by the time I was 30--and I'm 28 now." The clock she and her sister were racing was a slightly different collaborative effort, entitled Understanding the Liver: A History, written by their father, Thomas Chen '55, and uncle, Peter Chen '62. Although the book was motivational, its subject matter did not seem particu-larly feasible to the sisters. "Since it was obvious that we weren't likely to publish a best-selling epic on the gastrointestinal tract," Wah Chen explains, "we focused our creative juices on an audience that we were excited about--children."
They drew on many of their childhood experiences in creating Sassparilla's New Shoes, including the fact that they shared one wardrobe and many pairs of shoes. Ming Chen also recalls that she was puzzled by the absence of Asian protagonists from her bookshelves, stocked with the likes of Pippi Longstocking and The Lion, the Witch, and the Wardrobe. "Any children's books that did encompass Asian themes were folk tales of the 'old country'--experiences distant from Wah's and mine, which was growing up with Asian faces but doing very American things: driving in the station wagon to school every morning, and so on!" Sassparilla's adventures were created for a multiethnic audience, she says, with "universal themes: sibling rivalry, hand-me-downs, and making do with what you have." Sassparilla's moment of glory is the creation of her very own, very sparkly pair of shoes.
The Chens--who between them own almost all the kinds of shoes described in their book--also wear multiple hats. Ming works for EF Education, marketing their travel, language, and educational programs; Wah is a book editor at eToys.com. Besides holding down their day jobs, they hope to publish Ling and Ching Ming and the Orange Creamsicle, a mystery they have been working on since they were juniors in college, and to bring back their current heroine in Sassparilla and the Seven Seas and Sassparilla's Sweet Tooth. Not surprisingly, the sisters confess that, when it comes to footwear, they own more pairs of running shoes than anything else.
~ Sara Houghteling
---
Main Menu · Search ·Current Issue ·Contact ·Archives ·Centennial ·Letters to the Editor ·FAQs