Main Menu · Search ·Current Issue ·Contact ·Archives ·Centennial ·Letters to the Editor ·FAQs


In this issue's Alumni section:
Foreigner at Radcliffe - Success, 25 Years Out - Young at Harvard - Voters' Choice - Mount Harvard Club - Recordbreakers - Medalists Three - Preservationist - Sister Act - Yesterday's News
---
For more alumni web resources, check out Harvard Gateways, the Harvard Alumni Association's website
---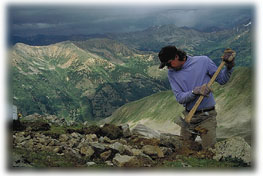 This could be you!
Mount Harvard Calls
Are you a fit climber with the yen to clean? Then the Rocky Mountain Harvard University Club has an offer.
The club seeks volunteers and financial support for an August 27-29 work weekend on Mount Harvard, at 14,420 feet the fourth tallest peak in the contiguous U.S. Like other Colorado "Fourteeners," the mountain is a victim of its own popularity: rare plant species along the main trail are at risk, and proliferating secondary trails cause further erosion. Alumni, indeed, have been themselves accused of damage in past efforts to erect a pole or cairn at the summit tall enough to make Mount Harvard the highest peak in Colorado. But times have changed. "As neighbors of the majestic mountain," says club president Aris Sophocles '66, M.D., "we feel a special responsibility to tend to it, lest it develop volcanic urges."
A professional trail crew from the nonprofit Colorado Fourteeners Initiative (www.ColoradoFourteeners.org) will run the weekend, suiting work to the 12-person group and the weather. Susan Warren, SPH '95, the club's liaison with CFI, can answer general queries ([email protected]); to sign up, contact CFI at (303) 278-7525, ext. 115, or [email protected].
---
Main Menu · Search ·Current Issue ·Contact ·Archives ·Centennial ·Letters to the Editor ·FAQs