Main Menu · Search · Current Issue · Contact · Archives · Centennial · Letters to the Editor · FAQs
---
In this issue's John Harvard's Journal:
Fiscal Fitness - Curricular Reform, More and Less - Internet Spoken Here - Limits to Growth? - Harvard Portrait: Lawrence Bobo - "A Cornerstone of Our Thinking" - Flying the New Coop - Brevia - The Undergraduate - Chosen People - Sports
---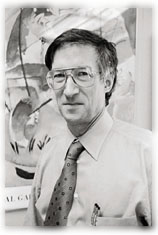 Todd.MATTHEW MILLER/HARVARD CRIMSON
Curricular Reform, More and Less
Close scrutiny of the undergraduate curriculum continues this year, the logical extension of last year's overhaul of the Core curriculum (see "Changes to the Core Curriculum," July-August, 1997, page 65). Now the faculty's two-pronged goal is to increase students' exposure to foreign languages and reduce the number of required courses overall. Last spring's fine-tuning, done to increase students' choice and flexibility, included the adoption of several new mechanisms that aim "to provide no fewer than six courses per term" in each of the 11 Core areas. A proposed reduction of required Core courses from 8 to 7 was not adopted. Instead, the faculty urged a holistic study of all undergraduate requirements, to find ways to reduce the total burden. At the same time, the faculty asked for a review of the language requirement.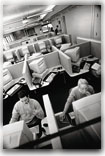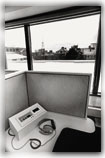 The language lab's new quarters atop Lamont Library. The move was precipitated by the current renovation of Boylston Hall. FLINT BORN
Dean of undergraduate education William Todd, who chairs the Educational Policy Committee of the Faculty of Arts and Sciences, says "that pair of aspirations means that in all likelihood we will be trying to increase students' use of foreign languages and appreciation of foreign cultures, and the development of the thought processes that are evolved in speaking a foreign language--all these wonderful things--without increasing requirements overall."
Since 1968, when Harvard reduced its language requirement from two years to one, there has been a nationwide decline of 50 percent in the number of students taking a foreign language, Professor Werner Sollors told a faculty meeting on December 9. At Harvard, the evidence of decline remains anecdotal: Sollors told how, on a recent visit to Adams House, he was stunned to find that what used to be a French table had become a French-accent table. (To which President Neil L. Rudenstine replied, "Is that a rise in standards or a fall in standards?")
Todd, who is also Reisinger professor of Slavic languages and literatures, says that at least 75 to 80 percent of undergraduates continue the study of foreign languages at Harvard--despite the fact that many have already fulfilled the language requirement. "But," he adds, "a disappointing number who come here having to take a year of foreign language do not continue past that first year." He is "anxious to create incentives so such students will feel they should continue voluntarily and use their acquired skills elsewhere in their studies." One incentive being explored is the granting of certificates for foreign language study. Another solution, he says, may come from the language departments themselves: they could offer a greater variety of courses "so that the linkages for concentrators in other disciplines are strengthened."
Todd sees a lot of opportunity for synergies between subjects. "In the Slavic department, for example, we might offer courses in Russian history or commerce, taught in Russian," he says, to make it "possible to continue language study while pursuing other interests or fulfilling requirements. We're always looking for ways to help students be more adventurous in their course selections."
Some faculty members favor mandating adventure by requiring every Harvard student to take at least one or two years of a foreign language, with no bypass option through advanced placement or achievement test scores. "If enacted," says Todd, "it could affect as much as 20 percent" of the student body, although the available statistics don't break out those international students whose first language is not English. Such a scenario would raise rather than lower course requirements for graduation.
In response, Todd has proposed to the Core subcommittee on foreign cultures that some language courses be allowed to count toward the Core's foreign cultures requirement. The subcommittee's decision will likely turn on the question of how much cultural content is actually embedded in those courses.
More likely, relief from the burden of undergraduate requirements overall--which, including Core and concentration courses, now comprise two-thirds to three-quarters of the average student's 32-course program--may come from the departments themselves. Says Todd, "We discovered in our preliminary report that concentration requirements have crept up in the past 20 or so years. Some departments--Germanic languages and literatures is one example--are taking the initiative and asking if everything they require is really essential to a good liberal arts education."
Todd will be working with the individual departments to examine their requirements as part of an ongoing cycle that will take three or four years to complete. "We will not be imposing arbitrary limitations on concentration requirements," he says, acknowledging that in certain fields, "There is a lot students must know." He says he expects to report back to his faculty colleagues on this topic next year, when he has gauged the impact of the Core subcommittees' success in generating more courses in their respective areas.
---
Main Menu · Search · Current Issue · Contact · Archives · Centennial · Letters to the Editor · FAQs