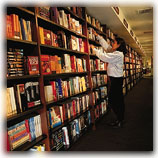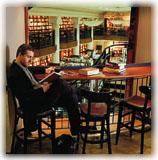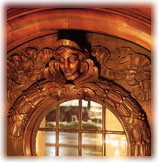 Linger awhile for a cup of coffee at the revivified Harvard Square Coop. Above: handsome bookcases display the wares; a balcony encircles the bookstore's main floor and offers spaces to read; a goddess above the door still gazes serenely down on shoppers. At left, the spiral staircase and historical mural. Photographs by David Carmack
Flying the New Coop
Resembling a well-appointed House library, the main building of the Harvard Cooperative Society recently reopened its doors. The official debut of the fully rehabbed interior came at a ribbon-cutting ceremony in December. The main store now occupies only the space behind the familiar recessed entrance foyer, famous for its columns, fine acoustics, and utility as a rendezvous point. The large interior space to the right, formerly the venue of school supplies and sundries, has been reclaimed by its owner, next-door neighbor BankBoston. School supplies have been relocated to the Coop's Palmer Street building.
As reported earlier ("Under New Management," November-December 1995, page 68), the Coop has turned over the day-to-day running of its six stores to the college bookstore division of Barnes and Noble, and has dropped many lines of merchandise to concentrate on books, school supplies, Harvard insignia merchandise, posters and prints, "basic" clothing, and a "dorm shop." The Coop has also extended its hours to 11 p.m. six days a week, and to 10 p.m. on Sundays. "We used to be a department store that happened to sell books," says Coop president Jerry Murphy '73, M.B.A. '77. "Now we are a bookstore that happens to sell school supplies and some other types of merchandise."
Indeed, the Coop's main building, which it has occupied since 1925, now devotes its four retail floors almost exclusively to books. "We made sure that we made a statement in terms of books, including academic books," Murphy says. "It's a resource that should be next to Harvard." The interior space is quieter now, and pleasingly redesigned, with floor-to-ceiling bookcases lining the walls. Easy chairs, tables, and even sofas are available for reading, browsing, or just plain sitting. At the rear, a grand spiral staircase leads down to the lower level (the erstwhile home of housewares) and up to the Coop Café on the mezzanine. The café, which boasts an extensive newsstand, serves coffee, cold drinks, and small sandwiches. At its tables, one can sip a cappuccino while perusing a newly purchased volume.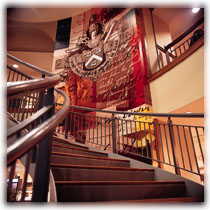 The spiral staircase, open in front, is backed by a mural that stretches 32 feet from the basement to the third-floor ceiling (see the Journal opener). Composed of three eight-foot-wide, curved panels, the mural evokes the history of Harvard, the Harvard Cooperative Society, and local student life through the medium of collage. McG Studio of Boulder, Colorado, designed it, using 60 images from Harvard and Radcliffe archives. Photos of John F. Kennedy '40, Theodore Roosevelt, A.B. 1880, and Franklin D. Roosevelt '04 loom alongside old-time sports stars. There are also fascinating memorabilia like a Harvard-Dartmouth football ticket from 1909, a pass to an 1875 "spring regatta" on the Charles, and a slightly ominous appointment slip summoning a student to meet with Dean Le Baron Russell Briggs. The collage--a focus of both architectural and historical continuity--even reproduces notes taken by the original group of students who organized the Harvard Cooperative Society in 1882.