Main Menu · Search · Current Issue · Contact · Archives · Centennial · Letters to the Editor · FAQs
---
In this issue's John Harvard's Journal:
For Apolitical Times, Many Politicians - Honoris Causa - Commencement Confetti - Phi Beta Kappa Oration: The Coherence of Knowledge - Law School Class Day Address: "Each One, Teach One" - Commencement Address: The Nature of the Humanities - Commencement Address: "Modern Slavery" - Radcliffe Quandary - Surging Yield - Home Stretch - University Challenges - Two More Years - One for the Books - Updike Regnant - Museums Ponder Missing Link - Handling Harassment - The Skin of the Tasty - People in the News - Beren Will Be Better Than Ever - Exodus - Crimson Has a Happy 125th - Harvard Oscars: The "Parade of Stars" - Brevia - The Undergraduate: "What Are You?" - Sports
---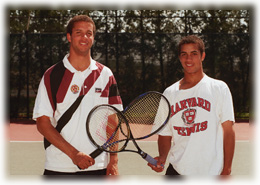 Fraternally yours: Tom (left) and James Blake Photograph by Jon Chase
Brotherhood at the Baseline
A pair of Blakeians who see the world in a topspin forehand
It was a match that promised to be close, competitive, and played at a very high level--everything you want in college tennis. On one side of the net: a 6´5´´ senior, a two-time all-American destined to rank as high as eleventh nationally in this, his final college campaign. Opposing him: a freshman phenom, on his way to all-American status of his own, as well as a national ranking that would soon soar as high as number 3. To sweeten the deal, the matchup was to occur in a tournament final, at last November's Rolex Region I Championships. Alas, the match never took place. The senior, Tom Blake '98, sustained a severe bone bruise on his heel while winning his semifinal match, and had to default the final. So he never got to play his younger brother, James Blake '01, for the Rolex championship. "It was too bad. We were curious," says head tennis coach Dave Fish '72. "We were all wondering how it was going to come out."
Had they met, it would have been the first time that the brothers Blake had ever opposed each other in a "serious" singles match. But as teammates on Harvard's powerhouse squad, ranked eighteenth in the country, they dished out a load of trouble to opponents this year. At number 1 singles, Tom ran up a 28-12 mark, topping off his college career with a dazzling 112-44 record. "Tom has had as good a set of results against top players as anyone in the modern era of Harvard tennis," says Fish.
When younger brother James attained a number 3 ranking in March, it was the highest ranking a Harvard player had reached since three-time all-American Howard Sands '83, M.B.A. '93, made it to number 2. James finished at number 14 nationally and went 37-5 in singles.
The two Blakes also joined forces in doubles, going 23-4 and ending the year as the country's twelfth-ranked tandem. Fraternal pairings do have some advantages. "We just have an understanding," says Tom. "I know what he's thinking, and it's the same for him."
They also help each other in singles. "If they are playing on courts next to each other, there's an enormous energy charge flowing in both directions," says Fish. "For example, James really goes after people, while Tom sometimes waits until he's threatened. If James is just going through somebody on the next court, watch Tom crank his game up; you can almost see him thinking, 'I'm not going to let junior finish before me.'"
The brothers' careers have moved on parallel tracks. Their parents, Tom and Betty, both play tennis; Tom Sr. once taught in the Harlem Junior Tennis Program in New York, where Tom Jr. learned the game at age seven. When the family moved to Fairfield, Connecticut, both boys began lessons with Brian Barker in nearby Trumbull. "He's an awesome teacher," says Tom Blake. "We still talk to him every couple of weeks."
Both the brothers attended Fairfield High School and played on the junior tennis circuit. Tom was playing at number 1 or number 2 for Harvard by the fall of his sophomore year, and as a junior, teamed with Mitty Arnold '97 in a formidable doubles pairing; they lost in the NCAA semifinals, 4-6, 6-2, 6-4, to a University of Nevada at Las Vegas team that won the national championship without losing a set to anyone else. Records are unclear, but it appears that no Harvard team had gone that far at a national tournament since the 1930s.
James has been following in his older brother's capacious tracks, even to the point of concentrating in economics and living in Mather House. But James bloomed earlier; he was the number 1 ranked junior in the United States. He also has a different style on court. "Tom plays much more in the tradition of Ivan Lendl--a really big serve, a very punishing forehand," Fish explains. "James plays more of an all-court attacking game; he's very quick. James can take a return of serve and really smack it, then suddenly be at the net."
This summer, Tom and James will both be trying their forehands at some pro events, both in singles and doubles. Like other fraternal pairs--John and Patrick McEnroe, Tom and Tim Gullikson, for example--the Blakes are enjoying the benefits of brotherhood at the baseline.
~ Craig Lambert
Vernal Victories
Softball
On their way to their first Ivy championship, Harvard's softballers (34-22, 12-0 Ivy) recorded the most wins in the history of the program. After vanquishing all Ivy opponents, they swept Holy Cross in two games, 7-4 and 6-0, to win a berth in the NCAA tournament, another historic first. In the NCAA regionals at Amherst, Harvard trounced Boston College, 11-2, but was unable to score on seventh-ranked Oklahoma in two games, falling by scores of 8-0 and 3-0.
Deborah Abeles '00 led the Ivies with 10 home runs; she was ranked twentieth nationally in batting with a .437 average and was sixteenth in RBI with 53. Freshman Chelsea Thoke (14-9) was tenth in the nation in strikeouts per seven innings, averaging eight whiffs per game. Senior pitcher Tasha Cupp (17-5, 6-0 Ivy with a 0.57 League ERA) was named Ivy League Pitcher of the Year, and finished her career with a Crimson record of 475 strikeouts. Junior co-captain Tara LoSovage was named Ivy League Player of the Year; she hit .526 in Ivy games.
Baseball
For the second straight year, Harvard (36-12, 16-4 Ivy) won the Ivy baseball title and turned heads with strong games at the NCAA championships. The Crimson finished as the twenty-fourth-ranked team in the country. At the Ivy League Championships, held this year in New Haven after a rainout in Princeton, Harvard again faced the Tigers for the title, as they have the previous two years; Harvard slugged its way to 13-6 and 13-4 victories.
Next, Harvard took two games from LeMoyne, earning a trip to the NCAA's South II Regional Championships in Louisiana for a game with the three-time national champions from Cal State- Fullerton. That squad's hot-hitting nine lambasted Crimson pitchers for a 16-1 rout in the first game. But Harvard bounced back, taking out Nicholls State, 6-5, in extra innings, then outslugging Tulane, 14-11, rallying for seven runs in the final two innings. But another encounter with Cal State-Fullerton ended in a 11-7 Harvard defeat to end a sterling spring campaign.
Radcliffe Rugby
The Radcliffe rugby club won the national championship of women's rugby in May, defeating Air Force 29-3 in the semifinals at State College, Pennsylvania, then rallying to beat Penn State 12-10 in the final. Penn State dominated the first half, but Radcliffe's tough defense kept the game within reach. Down 10-5 with only three minutes to go, Radcliffe scored on a successful pushover try, with Anna McMahan '99 touching down the ball. A conversion kick from Bex Wallison '98 sealed the game and Radcliffe's first-ever national title.
Men's Crew
The men's heavyweight crew (5-0) wrapped up its first undefeated campaign in six years with a sweep of Yale in New London. All three races followed the same pattern, with Yale sprinting out to quick leads, only to be passed by Harvard boats. The varsity finished more than 21 seconds ahead of Yale. The JV and freshman crews were both victors by about two lengths.
In earlier action, Harvard surpassed Brown, Princeton, MIT, Penn, and Navy in intercollegiate races before taking second at the Eastern Sprints, only 0.6 seconds behind Penn. After Yale, their next goal became winning the Ladies Challenge Plate at the Henley Royal Regatta, Harvard's first trip there since 1993.
Women's Crew
The Radcliffe heavyweight crew (2-4) was one of eight team invited to the NCAA Championships in Georgia. Radcliffe's varsity finished eighth there, and the program took seventh in the overall standings, combining varsity, junior varsity, and freshman boats. The freshman crew enjoyed another undefeated season, and has now won 15 straight dual regattas since 1996.
Men's Tennis
The netmen (25-4, 9-0 EITA) matched the most wins in the program's 115-year history. Undefeated in the EITA, Harvard won that conference championship for the fourth straight season and the ninth in the last 10 years.
Harvard made its third consecutive trip to the NCAA Round of 16 by winning the Region I championship, knocking out Penn State 4-0 in the semifinal and then, despite injuries, eliminating Virginia Tech 4-3 in the finals. At the NCAAs, Harvard drew third-ranked Georgia in its first match. The Crimson lost, 4-0, but played strongly and made the match far closer than the final score would suggest.
Women's Tennis
The women's tennis team (18-8, 7-0 Ivy) enjoyed a superb season, reclaiming the Ivy title with an undefeated run through the Ancient Eight. The netwomen were seeded fourth at the NCAA regional tournament and looking forward to a rematch with William and Mary, the only team to beat Harvard in the last 11 matches of the season. Instead, an unseeded Virginia Tech squad upset the Crimson, 5-2, to end Harvard's season prematurely. Only senior Gabriela Hricko and sophomore Vedica Jain were able to record victories,
Junior Ivy Wang competed in the NCAA Individual Tennis Tournament at Notre Dame, but lost in the first round. Wang was voted 1997-98 Ivy League Player of the Year.
---