Main Menu · Search ·Current Issue ·Contact ·Archives ·Centennial ·Letters to the Editor ·FAQs


---



Neurologist Joseph B. Martin, 58, succeeds Daniel C. Tosteson '46, M.D. '48, as dean of the Faculty of Medicine on July 1. Tosteson, who has held the position since 1977, announced plans to step down last May (July-August 1996, page 85).
Martin returns to familiar territory: from 1978 to 1989, he was Dorn professor of neurology at Harvard Medical School and head of the neurology service at Massachusetts General Hospital. In the years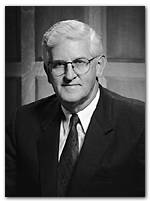 since, he has served as dean (1989 to 1993) of the University of California at San Francisco School of Medicine and then chancellor (1993 to the present) of UCSF, a health-sciences university with schools of medicine, dentistry, nursing, and pharmacy.
The new dean will need all his past experience. As Harvard-affiliated hospitals consolidate and combine programs, the medical school must find ways to elicit their continuing support for expensive teaching and research. Outlining his priorities, Martin told reporters he would focus on bringing together "the scientific and clinical parts of Harvard." He also advocated a more secure way to pay for hospital-based training for residents and interns, with a state or federal tax on health-insurance premiums to offset erosion in Medicare funds.
Announcing the appointment on November 8, President Neil L. Rudenstine cited Martin's "thorough understanding of the fundamental changes in health-care delivery systems that are transforming the environment for academic medicine." Dean Tosteson welcomed his successor as a distinguished scientist, experienced administrator and "perceptive, courteous, wonderful human being."
---