Main Menu · Search ·Current Issue ·Contact ·Archives ·Centennial ·Letters to the Editor ·FAQs


---
Author and journalist David McClintick '62 reports on his recent interview with a Harvard legend.
I first met Fred Glimp in the fall of 1957 in a cramped little room off a large study hall at the public high school in Billings, Montana. I was a senior trying to decide which colleges to consider, and to anticipate which might consider me. Fred, a native of Idaho, was recruiting applicants for Harvard from the northern Rocky Mountain states.
The only out-of-Montana school I was eyeing was Stanford, where a distant relative had gone. The Ivy League was entirely outside my frame of reference. I was not the valedictorian, nor even in the top 10, of my class of 520 students.
But Fred Glimp persuaded me to apply to Harvard, and I was so taken with the idea, and with Fred, that I persuaded my parents to see him at the General Custer Hotel that evening. My parents liked Fred, too, and the application proceeded.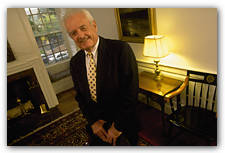 Fred Glimp in Massachusetts Hall, 1996.

Encountering Fred Glimp was among the most important moments of my life. He saw in me--a strong but not transcendent student--potential for success at Harvard that others had missed. He has touched thousands of other lives in similar ways. Indeed, the Westerners whom Fred recruited in the '50s and '60s helped transform the Harvard College student body from a group whose majority came from private preparatory schools in New England and the Middle Atlantic states to a group more representative of schools of all types across the country. As a senior admissions officer, Fred played a critical role in bringing about that change, as well as in opening Harvard fully to women and minorities.

Fred Glimp has now been associated with Harvard for 50 years. If one counts part-time work as an undergraduate chauffeur, he has known and worked closely with the last four Harvard presidents--James Bryant Conant, Nathan Pusey, Derek Bok, and Neil Rudenstine. He enrolled at the College in February 1947, after graduating from high school in Boise and serving in the U. S. Army Air Corps in World War II. He earned his A.B. in 1950, then studied economics as a Fulbright Scholar at Cambridge. He joined the College admissions staff in 1954 and became dean of admissions and financial aid in 1960, earning his Ph.D. while serving in that post. In 1967, he was appointed dean of Harvard College. Two years later Fred became executive director of the Boston Foundation, but in 1978 he returned to the University as vice president for alumni affairs and development. Although he retired officially on July 1, 1996, he remains active in the current University Campaign.

I recently spoke with him about how a kid from Idaho became a pivotal figure at Harvard over the last half century.

How did you happen to come to Harvard?
The idea that it was possible to go to college outside of Idaho came from the late Frank Church, who went on to become a United States Senator from Idaho. Frank was a year ahead of me at Boise High and went to Stanford. And then, when I was in the Army Air Corps in Germany, just after the war ended, my mother sent me Catherine Drinker Bowen's book Yankee from Olympus, which was the story of Oliver Wendell Holmes Jr. It was full of Harvard stuff because several generations of the Holmes family had gone here. And I thought, God, that's amazing. Holmes was such a remarkable guy. And I just decided when I got out of the service that I would take a whack at Harvard. I didn't think I'd get in.

What did you find when you arrived here?
I didn't know a soul. I was assigned to Thayer. Everything was crowded because of the veterans. A lot of people were living in the Indoor Athletic Building on cots. There were students in their 30s ranging down to the normal ages out of high school.

I took philosophy, government, history, and English, and on the first hour exams I got a B, C, D, and E, I don't recall in what order. I'd been out of high school for almost four years so I was rusty. But it simply wasn't acceptable to think about dropping out. What really saved me was that I was a pretty good baseball player, and freshman baseball was the one thing that first spring term that I felt competent to do well.

How did the presence of the veterans affect Harvard?
Harvard had been a fairly regional place before the war, but its provincial instincts were shaken up by the veterans, these people who had been sent all over the country and the world, and had a real chance for higher education through the GI Bill. Conant and [Provost Paul H.] Buck got interested in the diversity that this group brought to the College. Bill Bender, who was handling admissions of veterans and later became dean of admissions, decided to take calculated risks, making what he used to call "seat of the pants" judgments in letting people in.

Tell me about chauffeuring President Conant.
He was very outspoken and kind of crusty--not a cold person, but just a reserved old New England Yankee. And his wife was very much like him. One day I asked her if there was anything I could do while I was waiting for him, and, after hesitating politely, she said, "You know, he's terrible at shining his shoes. Would you mind doing that?" So I used to shine his shoes while I waited. When I was driving I was very careful, and once he said, "Fred, I don't mind your stepping on it a bit--you don't have to be so careful."

How did you start working in admissions?
I was doing graduate work in economics, and I went to Skiddy von Stade, who was running the scholarship program, and asked if he knew anyone who could give me a job. He told me Bill Bender was looking for someone. I went to work for Bender in the summer of 1954, and he became my mentor. They gave me western Massachusetts and upstate New York for recruiting. The next year they let me take on Montana, Wyoming, the Dakotas, and Idaho. A lot of those Western parents were very dubious, so I had to work at not seeming "Eastern."

Why did the College make such an effort to recruit those students?
Harvard hadn't done a lot of organized recruiting before the '50s. For more than 300 years, admissions had been pretty much determined by what Bill Bender used to call "natural forces." But with the influx of veterans and a rising number of applications overall we had to be more selective. And out of that developed a split between those faculty members and administrators who felt that Harvard College should admit people based solely on academic record and test scores, and those who believed that, while numbers were important, we should also consider other factors, such as character, energy, special strengths, and a diversity of backgrounds and parts of the country. The latter policy was finally adopted, but only after a long, hot debate.

Then we had to make sure we could find kids who would justify that latitude. We organized the alumni to help recruit these kids, and they did a first-rate job. It was a major public-relations problem with the prep schools and the "feeder" public high schools--all of a sudden, many more schools were sharing the spaces in a freshman class. On the whole, though, the older schools generally supported the policy, despite the pain they felt in individual decisions.

Tell me about your time as dean of the College.
Working with the kids was terrific. But as unrest over the Vietnam War became more intense, it was like shoveling sand against a powerful tide. The harder you shoveled, the rougher the tide got. It's a very badly misunderstood period. There was the counterculture and the drug scene, but what was really making many students desperately unhappy--and some angry, and some really rebellious--was the war. They couldn't stop it, and by staying here they were avoiding it, leaving it to others, and there was a lot of guilt in that. It was rough on some administrators, very rough on Nate Pusey, who was being shouted at, and spat at; you know, people would kind of trip you as you walked through crowds.

What do you recall about the day University Hall was forcibly taken over by students, in April 1969?
It was about noon--a beautiful day. Franklin Ford, the dean of the Faculty of Arts and Sciences, was upstairs in the Faculty Room meeting with someone, and I went up to tell him the students were busting in. When we got down, they were beating the hell out of an ROTC student who was trying to convince them not to break in. It got fairly rough as they physically put us out of the building.

Nate Pusey called a meeting at the president's house. He had every dean review his own situation--what he thought the moods of his faculty and students were, and what our options were. It was pretty clear that Nate wanted to act quickly. But the notion that there was no consultation--it's just not true. Every one of those deans had hours to make his case. The decision was made to go in with the state police early the next morning and take the students out. We all met to brief the police in Memorial Hall at 4 a.m.

I was the one who took the police in--a civilian representative of the University had to go in with them. We got on a bullhorn and told the students we were coming in and they had 10 minutes to get out. They were shocked. They were shouting, "Dean Glimp," this and that. It was a mixture of comedy and sad stuff and ugly stuff. The municipal police were supposed to clear the steps, and it was hard to do that smoothly, so some kids fell down the steps and fights started and it got fairly messy.

How long did it take the police to clear the building?
I would guess the building was emptied in half an hour. The kids had chained some of the doors shut, and the state police had big steel scissors and just clipped those chains as if they were little strips of plastic. It's the kind of scene kids aren't used to, and I wasn't--nobody's used to. One kid tried to escape by jumping out the window of my office, behind the John Harvard statue. It's a high window. He broke his ankle, and to this day, his father blames me for hurting his kid because he jumped out of my window. God, the emotion! I had people calling me up and saying, "Do you want me to get 20 of my classmates and come help you guys out?" And other people would call and say, "What are you doing to those wonderful, sincere students--they really believe in what they're doing. Why aren't you letting them tear the university down?"

How did all of that affect Harvard, as you experienced it?
It was a pretty sick time, but more difficult for the students than for the institution. Most people think the administrators are the ones who suffered. The faculty had it worse, and the students had it worst of all, the ones who were trying to lead normal lives, trying to cope. I think this University is pretty good at coping. A lot of universities had a tougher time.

Why did you decide to return to Harvard in 1978, after working on urban issues as head of Boston's community foundation?
While I knew little about fundraising in a formal sense, I did know that a critical ingredient in keeping Harvard strong and independent would be adequate funding. It was clear to me that the University's financial base was coming under more pressure--government funding was slowing, tuitions were soaring, and the only way to ensure that the institution remained accessible and healthy was to increase the philanthropic revenue stream. [President] Derek Bok and [Dean] Henry Rosovsky had been working to identify core needs for the College and were poised to launch the first major capital campaign in two decades when Derek called me. How could I refuse?

And now you're in the midst of the current $2.1-billion campaign, the largest any private institution has ever undertaken.
The University-wide nature of the campaign has required all the units to plan in concert and has been a major help to President Rudenstine in his efforts to pull the University together. Institutions have a tendency to turn in on themselves over time, to their detriment. The process of alumni outreach and the need for a periodic infusion of new funds almost ensure that won't happen at Harvard.

You may be the only high-echelon person active at Harvard who's served under its last four presidents. Could you talk about them as you've known them?
I'll tell you what goes through my mind. They were, and are, four very different people--each, I believe, outstanding in his own way. Conant had a really powerful mind. He was a great American figure then. He'd done the study of the American high school that everybody paid attention to. He'd helped put the Manhattan Project together. He'd started the Harvard National Scholarship program. That was where the active recruiting started. He'd found places at Harvard for many of the great European scholars who were fleeing the Nazis. He had a quality of the old Boston Yankee that I think is not generally understood. For all their reserve, they're amazingly hospitable to outsiders. They don't exclude people who have different backgrounds. Conant appreciated the breadth of America and wanted Harvard to be more like the country.

Nate Pusey was the first Midwestern president, this classicist who had grown up in Iowa and come to the College on a scholarship. He was a builder for new needs--the Science Center and three new undergraduate Houses, for example. He launched the first bold fund drive of the postwar period, which raised $82.5 million, a revolutionary amount at that time. During the late '60s, he managed to project a strong sense of dignity and propriety that I thought was important during an uncivil time. He maintained a philosophical point of view--he would wonder aloud what Thucydides would have said about all this. He had this great Olympian equanimity, which came across to some people as if he didn't care, which certainly wasn't true. But it would really annoy his critics. I admired him enormously.

Derek, originally, was a healer, a mediator, which we really needed at the time he took over. When Derek came into the president's job in '71, the civility and cohesiveness of the University were probably at an all-time low. He led us through a really tough time. From the beginning he led important administrative changes, such as creating the vice-presidential structure. He led a significant strengthening of the Kennedy School, rebuilt the athletic plant, and tried one technique after another to hold down costs during a period of high inflation. For me, he was also a good friend.

Neil is a very different kind of person. He's the son of two first-generation Americans, one from Italy, one from Russia. He's brighter than hell, and got into a good school and was encouraged to go to Princeton. And then came his Rhodes and Harvard for his doctorate. Neil leads by brains and sensitivity. The raw ambition model is just not him at all--not really the others, either. Neil came to Harvard with a vision of pulling the University together. By force of personal, patient determination, he has made remarkable progress. Although we need decentralized individual faculties and schools, we also need strong centripetal forces. Neil has started that, and my view is that Harvard will flounder if we don't continue his efforts. He's a joy to work with.

As you look back over your five decades at Harvard, is it possible to say what distinguishes it from other great universities?
We work like blazes to maintain small differences. Maybe they're not so small. In the last 130 years, it has been the leadership of the presidents, Rudenstine back through Eliot. Usually if you look for why something turned out especially well, it's the quality of the leadership. And that includes the leadership of the deans. Also, I think we're more easily democratic than some others--the idea of being as inclusive as possible. Our presidents really thought we should get away from limitations that made this place less available to people like you and me.

Though you've retired, you're still active. What are you up to?
I'm working 60 to 80 percent of the time as special assistant to the president for the duration of the University Campaign.
---