Main Menu · Search ·Current Issue ·Contact ·Archives ·Centennial ·Letters to the Editor ·FAQs


---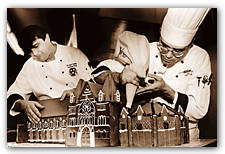 Freshmen have been feeding in Annenberg Hall for a year. To mark that milestone, executive chef Michael Miller and pastry chef James Taylor confected a gingerbread Memorial Hall, using three pounds of rock candy for the stained-glass windows. The structure may be seen at Loker Commons until the first day of spring term.Photograph by Jane Reed

Capital Connections While Bob Dole recovered from the campaign, his chief of staff from 1986 to 1996 found a new home. On November 20, Sheila P. Burke, M.P.A. '82, was named executive dean of the Kennedy School of Government. An expert on health and welfare issues, Burke will work with Dean Joseph S. Nye Jr. on the school's management strategy, curriculum development, and other matters.

On November 25, Nye honored Benjamin C. Bradlee '43, former executive editor of The Washington Post, at a dinner celebrating his establishment last spring of a professorship of government and the press. Thomas E. Patterson, formerly of Syracuse University, a specialist in American politics and political communication,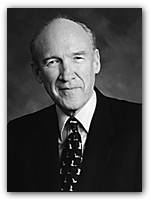 is the first holder of the new chair.
And come the new term, former U.S. Senator Alan Simpson, Republican of Wyoming, will be one of the Kennedy School's resident fellows. Simpson and his wife will reside in Eliot House.
Open Arms

If any questions remain about the size of Harvard's $2.1-billion University Campaign and donors' response to it, they have been put to rest in "The Philanthropy 400," compiled annually by The Chronicle of Philanthropy. The list for 1995, published in October, ranked Harvard, with $323.4 million of private support, seventh among charities--after such popular recipients as the Salvation Army and the American Red Cross--and the only educational institution in the top 10. The only other schools in the top 25 were Stanford (number 12, $240.8 million), Yale (number 19, $199.6 million), and Cornell (number 20, $198.7 million).
Core Under Review

The Core Curriculum, the basic set of requirements that College students from the early 1980s on have had to meet in order to graduate (apart from their concentration requirements), is under review by a committee chaired by Pforzheimer University Professor Sidney Verba '53. The Core's original planners called for its review after 15 years. Verba says that a "preliminary statement of the direction we ought to move in" is expected to circulate to the full Faculty of Arts and Sciences in mid to late January. This discussion paper will include a tentative set of recommendations, an historical overview, an analysis of the views expressed by students, faculty members, and recent alumni about the Core, and a consideration of issues that have arisen since the Core was instituted (such as the increased use of technology in education and changes in the boundaries of certain disciplines). The report will also examine the resources available for the Core, including the number of faculty members teaching Core courses.
Student Structures

Pulling its far-flung enterprises together under one roof, Harvard Student Agencies moved in December into new quarters, the renovated building at 67 Mt. Auburn Street, on the corner of Holyoke Street. A block east, in the island between Mt. Auburn and Bow streets, the Harvard Lampoon regilded the crown of its castle: the roof has been splendidly recoppered--a work of impressive architectural intricacy. No response as yet from the Crimson, far more soberly housed around the corner at 14 Plympton Street.
Nota Bene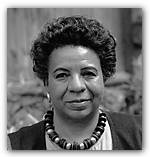 Photograph by Lilian Kemp

Follow the muse: Florence C. Ladd, the director of Radcliffe's Bunting Institute since 1989, will step down on June 30. Ladd, a 1972 Bunting Fellow, published a novel, Sarah's Psalm, last summer and is at work on another and a book of essays.

Just the facts, ma'am: Effective January 2, Arlene F. Becella is the new registrar of the Faculty of Arts and Sciences. Formerly registrar at the University of Arizona, Becella succeeds Georgene B. Herschbach, Ph.D. '69, now associate dean of the College.

A rare librarian: Richard Wendorf, head of Houghton Library since 1989, is moving downtown; on February 1, he will become director and librarian of the Boston Athenaeum.

Deceased

On December 8, investment banker and philanthropist John L. Loeb '24, LL.D. '71. In 1995, he and his late wife, Frances, pledged $70.5 million to Harvard as part of the University Campaign. An obituary appears on page 76O of the print magazine (obituaries are not available in the web edition).
---