Harvard Squared
Extracurriculars
Events on and off campus during May and June

Seasonal | Exhibitions & Events |  Theater | Nature & Science | Film | Music
Seasonal
Ceramics Program Spring Show
www.ofa.fas.harvard.edu
The annual event showcases unique objects by more than 70 artists. (May 9-12)
Beacon Hill Garden Club
www.beaconhillgardenclub.org
Explore more than 10 "hidden" private gardens in one of Boston's most historic neighborhoods. (May 16)
Humorist Peter Sagal
www.boxoffice.harvard.edu
An evening with the radio host and cultural commentator (and 1987 College alumnus), whose latest ruminations appear in The Incomplete Book of Running. (May 17)
Cambridge Arts River Festival
www.cambridgema.gov
This communal jamboree celebrates its fortieth year with live performances of dance, music, and theater, along with art vendors and international foods. New this year: anyone can dress up in oceanic garb and join the Massachusetts Avenue "Mermaid Parade." Central Square. (June 1)
Dance for World Community
www.ballettheatre.org
The José Mateo Ballet Theatre, in Cambridge, hosts this indoor/outdoor festival featuring free dance classes, demonstrations, films, talks—and performances by more than 80 companies. (June 3-8)
Boston Festival of Bands
www.metwinds.org
Metropolitan Wind Symphony/Met Winds and a slew of other top ensembles from around New England gather to play classical music, show tunes, and traditional marches. Faneuil Hall. (June 23)
Exhibitions & Events
Harvard Museums of Science and Culture
www.hmsc.harvard.edu
At the Peabody Museum of Archaeology & Ethnology, Zapotec master dyer and textile artist Porfirio Gutiérrez leads workshops on traditional cochineal-based dyes and weaving techniques (May 18 and 19), and then lectures on "Preserving Zapotec Weaving Practices" (May 21).
The Summer Solstice Celebration offers art activities, astronomical explanations of the solstice, and free admission to the Harvard Museum of Natural History, Peabody Museum, Semitic Museum, and Collection of Historical Scientific Instruments. (June 21)
Carpenter Center for the Visual Arts
https://www.carpenter.center
Anna Oppermann: Drawings highlights an extensive series of fluid, engrossing images by the largely unheralded German artist. (June 22-September 29)
Bruce Museum
www.brucemuseum.org
Sharks! Explore the diversity of the world's largest predatory fish. Watch live sharks developing in eggs and examine life-sized models and jaws and teeth from more than 20 species. (April 20-September 1)
Spotlight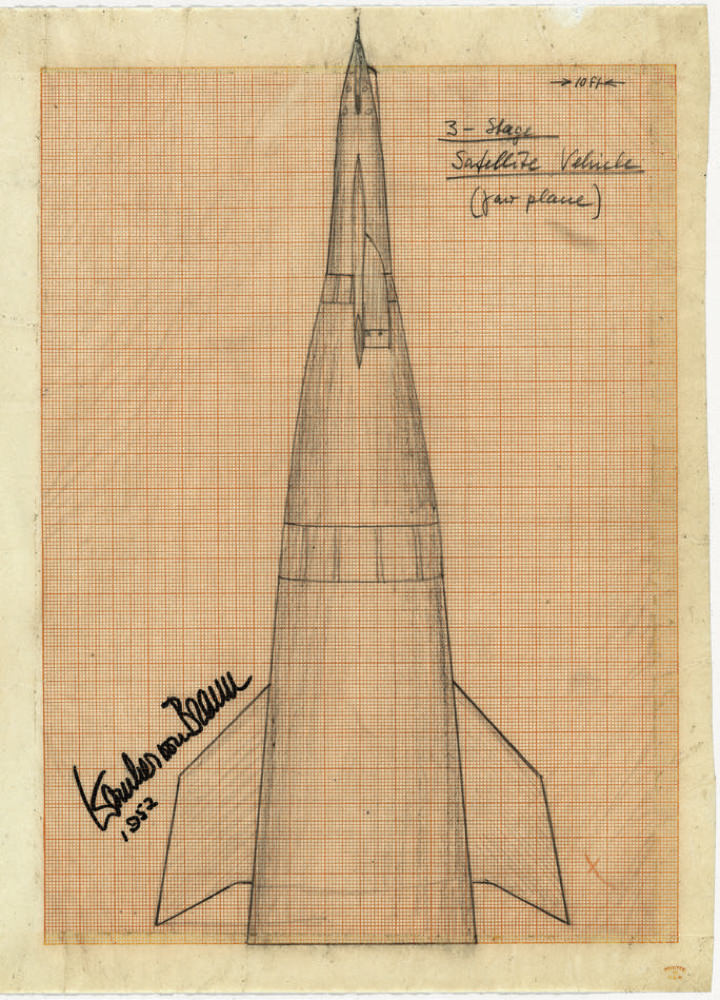 Artifact on loan, private collection/Courtesy of Houghton Library
Among the objects in Houghton Library's fascinating exhibit "Small Steps, Giant Leaps: Apollo 11 at Fifty" is a prescient 1952 drawing of a capsule (at right) by the German-American aerospace engineer Wernher von Braun. He had developed the V-2 rocket as a weapon for Nazi Germany, and was among the technical professionals secretly relocated to the United States after the war. Ultimately, he worked for NASA and was the primary architect of the Saturn V launch vehicle used in the 1969 moon expedition.
The exhibition explores the scientific contributions that led to the space mission through artifacts from Houghton's holdings, and from a private collector. Thus, a diagram featuring the sun, not the earth, as the center of the universe (from Copernicus's 1543 On the Revolutions of the Celestial Spheres), and Galileo's early telescopic images of the moon (from his 1610 Starry Messenger), share display space with a penned sketch of the lunar module that Armstrong made to explain his imminent mission to his father. Note, too, the star chart used to calibrate Eagle's guidance system after landing on the lunar surface. Signed by Buzz Aldrin, it's still flecked with moon dust. 
Houghton Library
https://www.library.harvard.edu/libraries
RISD Museum
www.risdmuseum.org
Gorham Silver: Designing Brilliance 1850-1970 examines the art and innovation that led this Providence, Rhode Island, manufacturer to put "uniquely American design on the international stage." (Opens May 3)
Cape Ann Museum
www.capeannmuseum.org
"Stephanie Cole—My Life in Pieces: Painting with Stuff" features the Rockport artist's ornate mosaic "memory sculptures." (May 11-July 7)
Wadsworth Atheneum Museum of Art
www.thewadsworth.org
Be Seen: Portrait Photography Since Stonewall highlights works—by Robert Mapplethorpe, Catherine Opie, Paul Mpagi Sepuya, and others—that explore the post-1969 riot experiences of the queer community. (June 22-September 15)
Currier Museum of Art
www.currier.org
Some 40 instruments, including the Fender Stratocaster, exemplify the world's most popular instrument in Medieval to Metal: The Art and Evolution of the Guitar. (June 22-September 22)
Institute of Contemporary Art (ICA)
www.icaboston.org
Less Is a Bore: Maximalist Art & Design reveals how artists "have sought to rattle the dominance of modernism and minimalism." Examples include experimental works by Sanford Biggers and Jasper Johns, and "transgressive sculpture and furniture" by Lucas Samaras and Ettore Sottsass. (June 26-September 22)
Addison Gallery of American Art
www.addisongallery.org
Multiple works, by Romare Bearden, Jordan Casteel, Aaron Douglas, and others, illustrate just how a place can become an artist's muse in Harlem: In Situ. (Through July 31)
Museum of Fine Arts
www.mfa.org
Toulouse-Lautrec and the Stars of Paris views celebrity culture and nineteenth-century Parisian nightlife in more than 200 ingenious and evocative works. (Through August 4)
Theater
American Repertory Theater
www.americanrepertorytheater.org
We Live in Cairo is a new musical inspired by the young Egyptians who revolted against President Hosni Mubarak in 2011. The story follows a handful of energetic students armed with laptops, social media, and historic grievances. Book, music, and lyrics by Daniel Lazour and Patrick Lazour. Directed by Taibi Magar. Loeb Drama Center. (May 14-June 16)
Atlas Soul: Assume the Position. This world-music ensemble takes audiences on a poly-rhythmic tour of Afro-Mediterranean beats. Featuring band leader, saxophonist, guitarist, and composer Jacques Pardo and poetic powerhouse/lead singer Regie Gibson. Oberon. (June 6)
Nature & Science
The Arnold Arboretum
www.arboretum.harvard.edu
Artist Paul Olson has long explored the arboretum, sketchbook in hand, as reflected in Drawn to Paint, a new exihbit of his landscapes and other works. (May 10-July 21)
Bring blankets and chairs for a special outdoor performance of Pride and Prejudice, staged by the Actors' Shakespeare Project and based on an adaptation of the Jane Austen classic by playwright Kate Hamill. (June 23; rain date June 24)
The new Science in Our Park Series offers hands-on learning experiences for kids (ages five and up). "Dissection Dramatics—Flower Form" hones observation and microscope skills (May 26) and "Get Your Hands Dirty!—Soil Science" employs digital probes and data collection to unearth natural treasures. (June 23).
Spotlight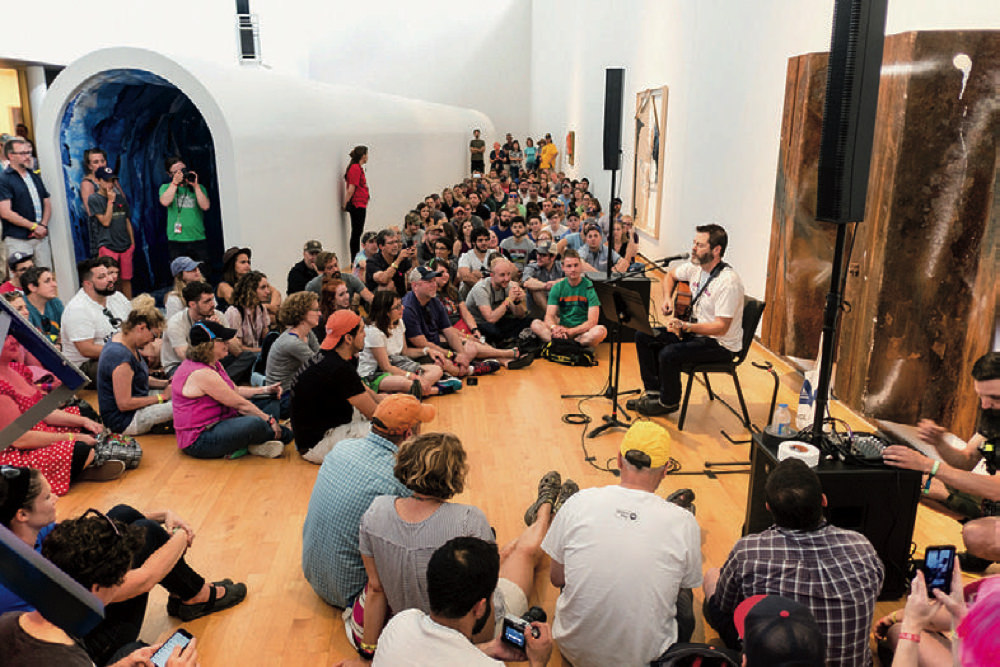 Photograph by Rick Levinson Photography/Courtesy of MASS MoCA
Wilco's Solid Sound Festival—June 28-30 at MASS MoCA in North Adams—features the alternative-rock band alongside a lineup spanning the musical spectrum. Tortoise integrates electronica, jazz, and "krautrock" (experimental mash-up music originating in 1960s Germany), while the lyrical, Welsh-born Cate Le Bon performs her genre-defying peppery, seductive post-rock. Tuareg songwriter and musician Mdou Moctar takes the stage to play mesmerizing electronic adaptations of traditional Tuareg guitar music. And don't miss Lonnie Holley. The Southern artist, teacher, and late-life improvisational musician, whose 2018 album Mith stuns the senses, composes celebrations of life's beauty, and starkly pointed meditations—like "I Snuck off the Slave Ship." Expect food trucks and pop-up music-related art, along with acts like Circus Smirkus and the John Hodgman Comedy Cabaret, too.
Wilco Solid Sound Festival
www.solidsoundfestival.com
Film
Harvard Film Archive
www.hcl.harvard.edu/hfa
Extreme Cinema. The Action Documentaries of Kazuo Hara. The Japanese filmmaker will be on hand for screenings of his often controversial works—among them Extreme Private Eros, The Emperor's Naked Army Marches On, and A Dedicated Life—which center on radical or marginalized characters. (June 10-July 23)
The Complete Howard Hawks highlights the versatile and influential Hollywood director. All of his extant works will be shown, from his silents and early talkies, to classics like Scarface,Bringing Up Baby, Gentlemen Prefer Blondes, and His Girl Friday, to later westerns, like the taut 1966 El Dorado, with Robert Mitchum, John Wayne, and James Caan. (June 14-August 18)
Music
Harvard-Radcliffe Chorus
www.boxoffice.harvard.edu
The group performs Joseph Haydn's The Seasons, with orchestra and professional soloists. Sanders Theatre. (May 11)
Boston Chamber Music Society
www.boxoffice.harvard.edu
The program includes Sonata for Violin and Cello, by Maurice Ravel, and Two Rhapsodies for Viola, Oboe, and Piano, by Charles Martin Loeffler. Sanders Theatre. (May 12)
Museum of Fine Arts
www.mfa.org
Guy Fishman: Bach Suites. The principal cellist of the Handel and Haydn Society surveys all six suites, performing on his two Baroque instruments. (May 19)
Isabella Stewart Gardner Museum
www.gardnermuseum.org
Singer/rapper Maimouna Youssef, a.k.a. Mama Fresh, combines jazz, gospel, and other incantations to honor "A Woman's Worth." With opening acts Dom Jones and SublimeLuv. (May 30)
Zamir Chorale of Boston
www.boxoffice.harvard.edu
The award-winning ensemble, focused on preserving and presenting Jewish culture, celebrates its fiftieth anniversary with a gala concert honoring its founder, Josh Jacobs. Sanders Theatre. (June 4)