Harvard Squared
Extracurriculars
Events on and off campus during March and April

Seasonal | Theater | Film | Nature | Music | Lectures | Exhibitions & Events
Seasonal
John F. Kennedy Presidential Library and Museum
jfklibrary.org
The Boston institution celebrates Saint Patrick's Day with stories of Irish immigrants told through music, poems, and humor. Featuring the sounds of mother-and-son traditional-music duo the Celtic Bells. (March 14)
The 11th Annual Ciclismo Classico Bike Travel Film Festival in Comedy
ciclismoclassico.com
A wide range of filmmakers and bike enthusiasts highlight the art and joy of pedaling adventures—along with the cause of cycling. Regent Theatre, Arlington, Massachusetts. (March 19)
Igloos at the Winter Pop-up Bar
outlookkitchenandbar.com
The rooftop lounge at the Seaport's Envoy Hotel offers drinks, snacks, and panoramic views from the warmth of lit plastic igloo structures. (Through March 28)
Arts First Festival
ofa.fas.harvard.edu
The annual arts celebration in and around Harvard Square features more than a hundred live performances of dance, theater, and music, along with art exhibits and hands-on activities for all ages. (April 30-May 3)
Theater
American Repertory Theater
americanrepertorytheater.org|
In New York Values, performance artist Penny Arcade pays tribute to anyone living on the margins of "an increasingly entrenched, fortified, and well-financed 'mainstream' society." With musical collaborator Steve Zehentner. Oberon. (March 19)
The live vintage-rock concert and theatrical event Macbeth in Stride traces the treacherous arc of Shakespeare's leading lady, delving into "the underbelly of female ambition." Created and performed by Whitney White. Oberon. (April 23-May 10)
Lowell House Opera
boxoffice.harvard.edu
The professionally led company-in-residence stages an adaptation of a Stephen Sondheim classic, the delightfully frightening modern musical Sweeney Todd: The Demon Barber of Fleet Street. Lowell House Dining Hall. (March 27-April 4)
Lyric Stage Company
lyricstage.com
Fabulation Or, The Re-Education of Undine, by two-time Pulitzer Prize-winning playwright Lynn Nottage, examines the journey toward downfall of a successful African-American publicist and her forced return to the Brooklyn housing projects of her youth. (April 3-May 3)
Film
Harvard Film Archive
harvardfilmarchive.org
The series A World Viewed: Celebrating Stanley Cavell's Life in Film begins with screenings—among them Chantal Akerman's La Captive, Kenji Mizoguchi's Ugetsu, Jean-Luc Godard's Two or Three Things I Know About Her, and George Cukor's Rich and Famous—and culminates in a two-day conference featuring Harvard and visiting scholars exploring the philosophy and work of Cavell, the influential Cabot professor of aesthetics and the general theory of value, who died in 2018. (March 13-28)
IFFBoston
iffboston.org
The Independent Film Festival Boston offers documentaries and narrative features, short films, and animated and experimental works not readily available elsewhere. New and established filmmakers, along with a host of regional practitioners, are featured through screenings at local cinemas. (April 22-29)
Nature
Arnold Arboretum
arboretum.harvard.edu
"Greenovation: Urban Leadership on Climate Change." Northeastern University professor of urban and public policy Joan Fitzgerald identifies effective strategies, governmental roles—and Boston's specific challenges. Hunnewell Building. (April 9)
Spotlight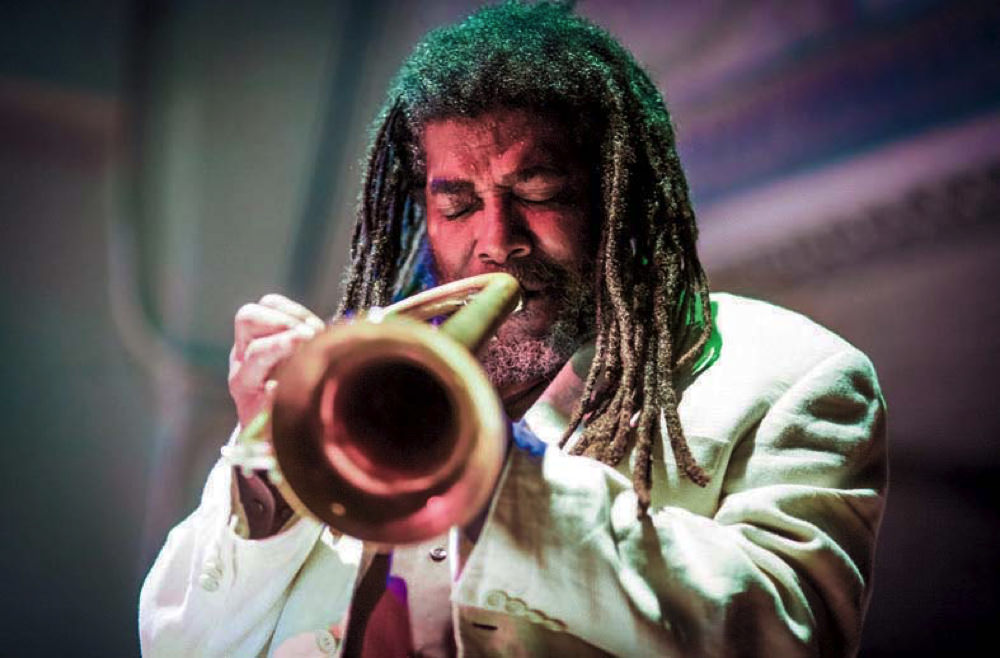 courtesy of Wadada Leo Smith
The 2020 Elson Lecture—"A Creative Dialogue about Wadada Leo Smith's Philosophical and Compositional Practice"—features the musical artist himself in conversation with musicologist Nina Eidsheim, a professor at UCLA's Herb Alpert School of Music. Smith is an award-winning trumpeter, multi-instrumentalist, composer, and improviser, typically of avant-garde, or "free," jazz. His Ten Freedom Summers, a finalist for the 2013 Pulitzer Prize for music, features 19 works composed across decades, starting in the late 1970s, that evoke the civil-rights movement. Smith, born in Mississippi, studied ethnomusicology at Wesleyan University; he has taught, played, recorded, and created music—releasing 55 albums—for nearly his entire life. Eidsheim, with whom Smith has also performed, is the author, most recently, of The Race of Sound: Listening, Timbre, and Vocality in African American Music (Duke University Press, 2019).
March 31, Paine Hall (free, no tickets required)
Music
International Bagpipe Conference
boxoffice.harvard.edu
For this fifth annual gathering (and the first held in North America), the agenda kicks off with a gala concert by devoted piping practitioners from France, Spain, Greece, Austria, Ireland, and Scotland. Paine Hall. (March 13-15)
Boston Chamber Music Society
boxoffice.harvard.edu
The program includes works by Fanny Mendelssohn-Hensel, Zoltán Kodály, and Antonín Dvořák. Sanders Theatre. (March 22)
Radcliffe Pitches
boxoffice.harvard.edu
The a cappella group celebrates its forty-fifth anniversary with a special Spring Jam, sharing the stage with the Harvard Krokodiloes and the Harvard Din & Tonics. Sanders Theatre. (March 28)
Harvard Jazz Bands
music.fas.harvard.edu
The lively musical evening honors jazz master in residence Ellis Marsalis. Sanders Theatre. (April 3)
Radcliffe Choral Society
boxoffice.harvard.edu
The evening performance also features the Parker String Quartet. Sanders Theatre. (April 4)
Fromm Players at Harvard
music.fas.harvard.edu
Pianist, composer, and Rosenblatt professor of the arts Vijay Iyer curates the "Black Speculative Musicalities" symposium, with concerts featuring two faculty colleagues—bassist and vocalist Esperanza Spalding and composer Yvette Janine Jackson—and iconoclast jazz instrumentalist Roscoe Mitchell. Check the website for location details. (April 3-4)
Harvard-Radcliffe Orchestra|
boxoffice.harvard.edu
Celebrate the musical season with Igor Stravinsky's The Rite of Spring and Arnold Schoenberg's Verklärte Nacht. Sanders Theatre. (April 18)
Lectures
Harvard Graduate School of Design
gsd.harvard.edu
Co-hosted by the GSD and the Harvard Paulsen School of Engineering and Applied Sciences, the "Thresholds: Design and Science" conference features academics and practitioners presenting interdisciplinary methods, analyses, and techniques. Knafel Center, Radcliffe Institute for Advanced Study. (March 27)
Mahindra Humanities Center
mahindrahumanities.fas.harvard.edu
The Tanner Lectures on Human Values this year feature Thomas Piketty, author of the influential Capital in the Twenty- First Century, and its follow-up volume, Capital and Ideology, due out in early March. Piketty is director of studies at L'École des Hautes Études en Sciences Sociales (EHESS) and a professor at the Paris School of Economics. Sanders Theater. (April 15 and 16)
Radcliffe Institute for Advanced Study
radcliffe.harvard.edu
"Can Originalism Save Bioethics in the Age of CRISPR?" A lecture by constitutional-law and genetic-technologies scholar Osagie K. Obasogie, Haas Distinguished Chair and professor of bioethics in the joint medical program and school of public health at the University of California, Berkeley. Knafel Center. (April 20)
Exhibitions & Events
Peabody Museum of Archaeology and Ethnology
peabody.harvard.edu
Uncovering Pacific Pasts: Harvard's Early Endeavors in Oceanic Anthropology offers historical images and objects, such as carved Fijian clubs, models of outrigger canoes, and "a striking example of Samoan bark cloth." Laureate Fellow and Australian National University archaeology professor Matthew Spriggs gives a related lecture on March 10. Geological Lecture Hall. (Opening March 7)
Resetting the Table: Food and Our Changing Tastes explores the history and science behind American eating habits. Perhaps most illustrative is the exhibit's careful recreation of a formal dinner served to Harvard freshmen in 1910.
Harvard Art Museums
harvardartmuseums.org
"Artist Dorothea Rockburne in Conversation." The abstract painter and Black Mountain College alumna discusses her abiding fascination with mathematics and astronomy, and its effect on her work, as well as the notion of "drawing as a form of intellectual inquiry." She is joined by Abrams curator of drawings Joachim Homann and Bowdoin College mathematics professor Jennifer Taback. (March 11)
Johnson-Kulukundis Family Gallery, Byerly Hall
radcliffe.harvard.edu
Brown II offers works by Tomashi Jackson, a 2019 Whitney Biennial participating artist, painter, and printmaker who incorporates "archival research in the histories of law, urbanism, and social justice." (April 14-June 27)
Harvard Ceramics Program
ofa.fas.harvard.edu/ceramics
What Was I Thinking? New Works by Shawn Panepinto offers expressive watercolors by the artist, a former longtime director of operations at the ceramics program. (April 18-June 5)
MASS MoCA
massmoca.org
The North Adams museum's contemporary galleries offer a packed spring lineup, including Kissing Through a Curtain, which examines cross-cultural communication through works by Nasser Alzayani, Osman Khan, and Clarissa Tossin, among others. (Opens March 21) Also on tap is the second annual High Mud Comedy Festival. This year expect performances by actor-comedian John Early and other established and emerging talents, along with workshops and ad hoc opportunities for laugh-athons. (April 17-18)
Wadsworth Atheneum Museum of Art
thewadsworth.org
Savor: A Revolution in Food Culture looks at radical changes in French and European culinary culture and society between 1650 and 1789 using early cookbooks, gardening techniques, and even tableware. Includes lively programs, like the panel discussion on dining etiquette and cross-cultural customs on March 25. (Through May 25)
Museum of Fine Arts
mfa.org
Curated by teenagers (through a new museum partnership with local organizations), Black Histories, Black Futures explores works by twentieth-century artists of color, including Archibald Motley, James Van Der Zee, and Dawoud Bey. (Through June 20)