Harvard Squared
Extracurriculars
Events on and off campus during March and April

From Left: Mansi Srivastana; Ned Friedman/the Arnold Arboretum; Staatliche Museen zu B erlin, Аgyptisches Museum und Papyrussammlung courtesy of the Ceramics Program/Office for the Arts at Harvard
Seasonal  |  Theater  |  Nature  |  Exhibitions and Events  |  Music  |  Lectures 
Seasonal
Arts First Festival
ofa.fas.harvard.edu
The Office for the Arts at Harvard is organizing an online version of the annual celebration, promising works and performances by Harvard-affiliated artists across "all levels, in all arts, in all class years, in every department," streaming from their own backyards, dorms, homes, and studios. (April 19-30)
Boston Harbor Now
bostonharbornow.org
The nonprofit hosts year-round outdoor activities, including "Ocean Therapy Winter Wanders" (March 6) and the "Bundle Up Boston" running club (March 28 and April 25). Check the website for details, and for virtual arts and culture events.
Theater
Central Square Theater
centralsquaretheater.org
Director Eric Tucker brings a pared-down approach to Angels in America: A Gay Fantasia on National Themes, Tony Kushner's Pulitzer Prize-winning epic set amid the American AIDS crisis. (March 26-May 16)
Spotlight
Clays and glazes can take nearly any form. Artist Roberto Lugo creates classic porcelain works portraying street art and themes of social justice. Linda Nguyen Lopez offers abstract, lyrical versions of everyday objects. These two ceramicists join six others this spring for a lively series of virtual discussions and studio demonstrations sponsored by the Ceramics Program at the Office for the Arts at Harvard. (The discussions will run on all but two Saturdays from March 6 through May 8.)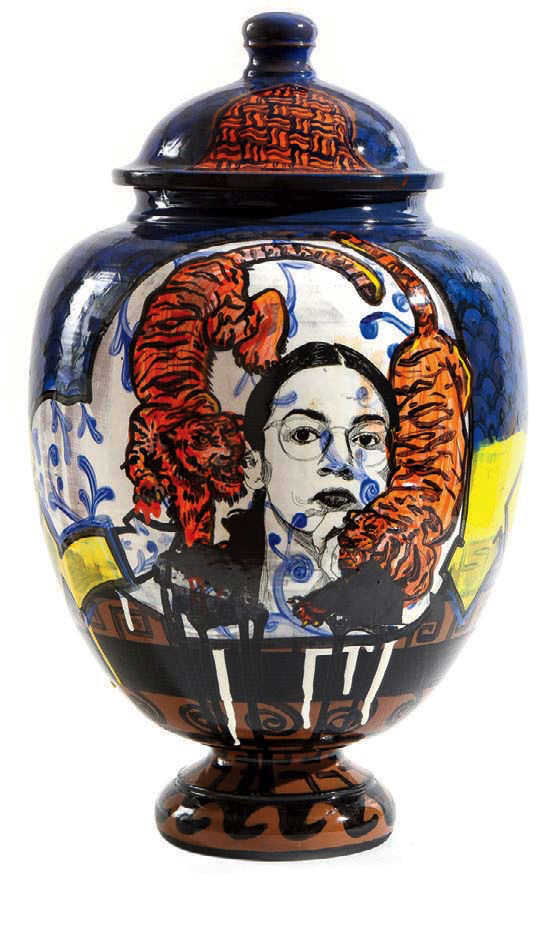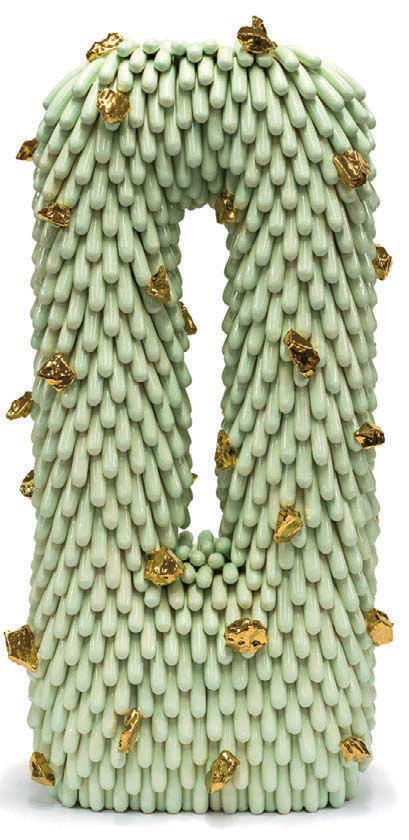 The series host, Fabio J. Fernández, is a Boston-based artist, educator, and curator; he plans to cover topics like mentorship, arts access, and community-building. Lugo and Lopez—see his Vengo dal Ghetto: AOC (2020), above, and her Jade Dust Furry with Gold Rocks (2018), below—launch the dynamic series with talks on March 6 and March 27, respectively.
The other artists slated to speak are Paul Andrew Wand­less, Syd Carpenter, Shawanda Corbett, Sanam Emami, Salvador Jiménez Flor­es, and Donté K. Hayes. Visit the Ceramics Program's website to register for the talks, or for a variety of pottery classes offered online this year.
Nature
Appalachian Mountain Club
activities.outdoors.org.
Explore small-group hiking and skiing trips, join a Patriots' Day Parade Paddle in Concord, Massachusetts (April 19), or go online for community gatherings and educational land-conservation webinars.
Arnold Arboretum
arboretum.harvard.edu
The 281-acre Boston haven (see page 36) is open daily for walking explorations of the natural world. Self-guided tours highlight seasonal shifts and centenarian specimens; guided tours may resume in April.
Exhibitions & Events
Harvard Museum of the Ancient Near East
hmane.harvard.edu
In "Black is Queen: The Divine in Kush," Egyptologist, Nubiologist, and Barnard College adjunct professor Solange Ashby explores Africans of the Nile Valley and female power. (March 25)
Carpenter Center for Visual Arts
carpenter.center
Tune in for a conversation with University of Chicago professor of English language and literature C. Riley Snorton and NYU assistant professor of art and public policy Hentyle Yapp, editors of Saturation: Race, Art, and Circulation of Value (MIT Press, 2020), and a contributing author, Los Angeles-based artist Candice Lin. (March 25)
Peabody Museum of Archaeology & Ethnology
peabody.harvard.edu
Panelists reflect on the history and legacy of Museum of Comparative Zoology founding director Louis Agassiz's archival materials through an online discussion: "Race, Representation, and Agassiz's Brazilian Fantasy." (April 1)
Harvard Museums of Science & Culture
hmsc.harvard.edu
Loeb associate professor of the natural sciences Mansi Srivastava delves into the fascinating molecular, cellular, and evolutionary aspects of renewal in "Body Builders: How Animals Regenerate New Parts." (April 14)
Harvard Museum of Natural History
hmnh.harvard.edu
Check out a host of online recorded lectures and Zoom classes this spring, including "Nature Journaling for Families" and "Drawing Plants & Flowers."
Music
Handel and Haydn Society
handelandhaydn.org
Václav Luks, founder of the Prague orchestra Collegium 1704 and of Local Ensemble 1704, conducts an online performance of Beethoven's Symphony No. 7 in A Major, Op. 92. (March 30)
Lectures
Harvard Bookstore
harvard.com
Nobel laureate and author Kazuo Ishiguro joins Kate Darling,an expert in robot ethics at the MIT Media Lab, for a conversation about his new novel Klara and the Sun. The futuristic fable is narrated by an observant "Artificial Friend" who studies her human customers, and is soon bought by a family to fulfill a questionable role. (March 3)
Radcliffe Institute for Advanced Study
radcliffe.harvard.edu
"Aesthetics of Memory, Narratives of Repair." Pumla Gobodo-Madikizela, RI '21, professor and South African National Research Foundation chair in violent histories and transgenerational trauma at Stellenbosch University, looks at ways that "solidarity and responsible citizenship" might be restored. (March 10)
Harvard T.H. Chan School of Public Health professor David Hemenway, RI '21, director of the Harvard Injury Control Research and Harvard Youth Violence Prevention Centers (see Forum, January-February 2020, page 43), examines the complex relationship of "Guns and Public Health." (April 7)
Providence College assistant professor of political science Thea Riofrancos, RI '21, highlights lithium's supply chain and its effects on the planet in "Brine to Batteries: The Extractive Frontiers of the Global Energy Transition." (April 14)