Harvard Squared
Extracurriculars
Events on and off campus during January and February

Seasonal | Exhibitions & Events | Lectures | Theater | Film | Music | Nature
Seasonal
Amherst College LitFest 2020 
amherst.edu/go/litfest
Jesmyn Ward, a National Book Award-winner, headlines the fifth annual event. Also featured are authors Susan Choi and Laila Lalami, memoirist/political commentator Ben Rhodes, a Spoken-Word Slam, and free tours of the illuminating Emily Dickinson Museum. (February 27-March 1)
Spotlight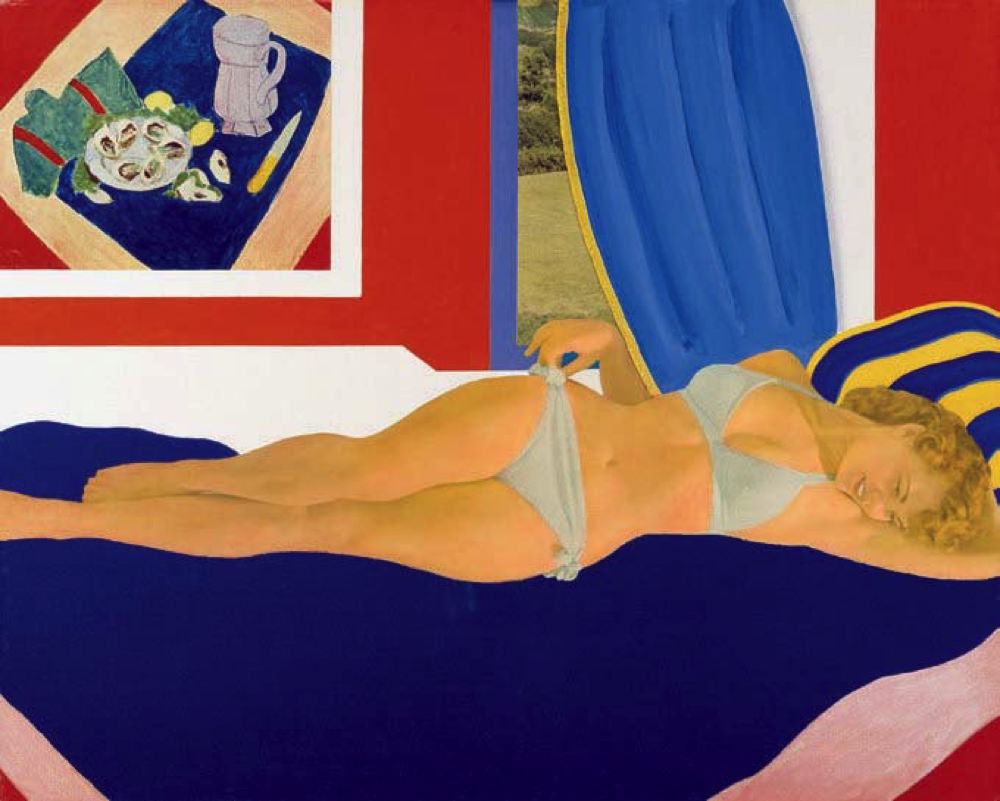 © 2019 Estate of Tom Wesselmann / Artists Rights Society (ARS), NY.
"Photo Revolution: Andy Warhol to Cindy Sherman," at the Worcester Art Museum through February 16, explores the seismic impact of the modern art form. "Beginning with the rise of Pop art in the late 1950s and especially after its explosive take-off in the 1960s," the exhibit notes, "it was photo-based media that drove much artistic innovation." More than 225 works—like Tom Wesselmann's mixed-media collage Great American Nude #36, shown here—contribute to an illustrated history of the later twentieth century. Diane Arbus and Garry Winogrand shaped novel views of "ordinary" people. Warhol and Roy Lichtenstein inverted traditional painting and print-making, mimicking "real" images and mining commercialism. John Dominis's Black Power Salute, Mexico City Olympics (1968) and John Paul Filo's Kent State (May 4, 1970) document actual events. Later, artists like Sherman and Nan Goldin would play with such concepts of "reality," highlighting questions of personal/iconic identity. Through the 1980s, "The growth of photography as a consumer medium began to carry over into and influence the artists of the time," notes Nancy Kathryn Burns, the museum's Stoddard associate curator of prints, drawings, and photographs, becoming "the dominant form capable of delivering the real—or seemingly real—images that both artists and consumers now desired." 
Exhibitions & Events
Carpenter Center for  Visual  Arts
carpenter.center
Tony Cokes: If UR Reading This It's 2 Late, Vol II spotlights new works by the video and installation artist, well known for his eviscerating cultural critiques, especially of capitalism. (Opens January 31)
Johnson-Kulukundis Family Gallery, Byerly Hall
radcliffe.harvard.edu
In The Lily League, Los Angeles artist EJ Hill, RI '19, envisions a counterpoint to the Ivy League, recasting "the visual language of academic heraldry to reckon with educational institutions that are not designed for all." (Opens January 31)
Harvard Museum of Natural History 
hmnh.harvard.edu
Meet scientists who investigate fossils, microbes, and carnivorous plants at the annual, all-ages festival I Heart Science. 
(February 8)
Peabody Museum of Archaeology and Ethnology
peabody.harvard.edu
Resetting the Table: Food and Our Changing Tastes explores the history and science behind American eating habits, and features a recreation of a formal dinner served to Harvard freshmen in 1910.
Harvard Art Museums
harvardartmuseums.org
Painting Edo: Japanese Art from the Feinberg Collection. More than 120 works—from colorful landscape paintings and scrolls to ornate fans and monochromatic inkwork—highlight artistic lineages and studios active from 1615 to 1868. (Opens February 14)
Cape  Ann Museum
capeannmuseum.org
The region's communities and coastal beauty shine in Tom and T.M. Nicholas: A Father and Son's Journey in Paint.(Opens January 11)
Mystic Seaport Museum
mysticseaport.org
J.M.W. Turner: Watercolors from Tate offers nearly 100 works by the influential (and unfathomably prolific) British artist, all drawn from the Tate Museum's Turner Bequest. (Through February 23)
Lectures
Radcliffe Institute for Advanced Study
radcliffe.harvard.edu
Ayodele Casel, RI '20, shares aspects of her theatrical work-in-progress Diary of a Tap Dancer. (February 11) 
Theater
Lyric Stage Company 
lyricstage.com
The Treasurer, by Max Posner, is a "darkly funny" portait of a son and his aging mother, and what money can signify within strained family relationships. (February 21-March 22)
Huntington Theatre Company 
huntingtontheatre.org
Lynn Nottage's Pulitzer Prize-winning Sweat, set in a Reading, Pennsylvania, bar, explores the lives and dreams of working-class Americans amid political uncertainty, labor disputes, and the globalized economy. (January 31-February 23) 
Film
Harvard Film Archive
harvardfilmarchive.org
Silent Hitchcock offers all of the British director's extant 35-millimeter films—recently restored—with live musical accompaniment. (January 18-February 16)
 Japanese director Tetsuya Mariko discusses work and creativity during screenings of his films, including the critical smash-hit Destruction Babies (2016), a violent yet artful story of lost youth. (February 21-29)
 A special Valentine's Day weekend series, Amour Fou, explores the heart of this fiery French conception of love through films like Luis Buñuel's L'Age d'Or, along with modern classics Betty Blue, La Chienne, and Jules and Jim. (February 14-16)
Music
An Evening with Sutton Foster
boxoffice.harvard.edu
The magnetic Tony Award-winning actress, singer, and dancer performs Broadway tunes, and other songs from her album Take Me to the World. Sanders Theatre. (February 1) 
Boston Philharmonic Orchestra
boxoffice.harvard.edu
The program includes Franz Liszt's Piano Concerto No. 2, and Zoltán Kodály's  Dances of Galanta. Sanders Theatre. (February 20 and 23)
Harvard Group for New Music
hgnm.org
A concert of new works by Harvard composers features the international Schallfeld Ensemble, based in Graz, Austria. Paine Hall. (February 22)
Nature
Arnold Arboretum
arboretum.harvard.edu
Get outside and explore nature with others during invigorating Sunday afternoon Winter Wellness Walks.
Native Plant Trust
nativeplanttrust.org
Tales from the Field: A Botany Story Slam. Regional botanists, horticulturists, and other plant fanatics share their experiences, and vie for votes as "best storyteller." Garden in the Woods. (February 26)