Harvard Squared
Extracurriculars
Events on and off campus during July and August

Seasonal | Music | Film | Theater | Nature and Science | Exhibitions & Exhibits
Seasonal
Farmers' Market at Harvard
www.dining.harvard.edu/farmers-market
Fresh fish, meats and produce, along with specialty breads, herbs, and cheeses. Check the calendar for guest chefs and cooking demonstrations. Science Center Plaza. (Tuesdays, through November 20)


Newburyport Artwalk
www.artwalknewburyportblogspot.com
Gallery receptions, pop-up exhibits, and artist talks in the historic downtown district, amid restaurants, shops, and easy strolls along the Merrimack River. (June 23 and August 18)


African Festival of Boston
www.africanfestivalofboston.com
An annual celebration of African arts, culture, and food. Rowes Wharf. (July 28)


Music
The Wailin' Jennys 
www.boxoffice.harvard.edu
The award-winning Canadian trio's vocal harmonies reinvigorate folk, roots, and pop tunes. Sanders Theatre. (August 23)


Film
Harvard Film Archive
www.hcl.harvard.edu/hfa
Luchino Visconti, Architect of Neorealism, offers decadent classics like Death in Venice and The Damned. (Through July 15) 
Cinema of Resistance. The exploration of spirited protest includes Robert Bresson's A Man Escaped and Midi Z's City of Jade. (Through July 21) 
Spotlight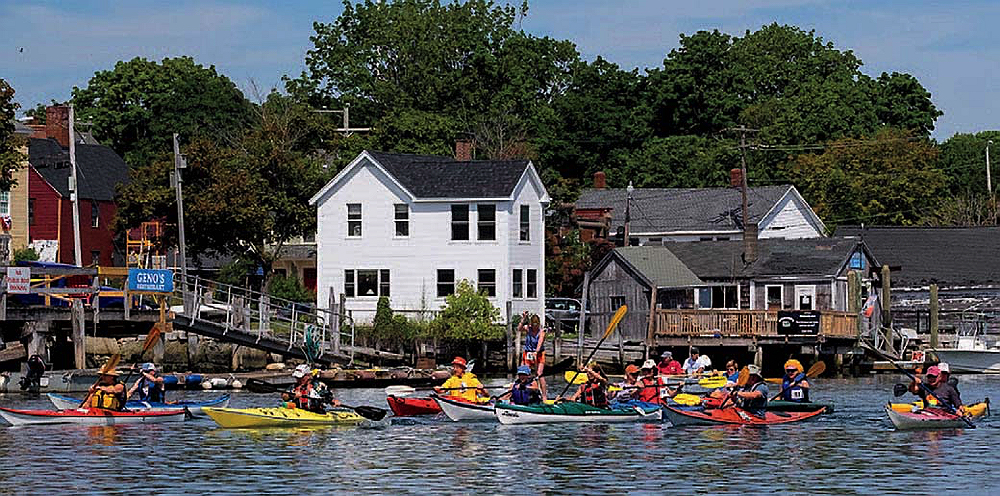 Photograph by Michael Sterling Photography
The Round Island Regatta, in Portsmouth, New Hampshire, "is open to anyone who can get a boat there"—from kayaks, paddleboards, and rowboats to large sailboats and the smallest racing dinghies, Cape Cod Frostys—says event leader Matt Glenn, captain of the nonprofit Gundalow Company's touring boat Piscataqua. "We even had a windsurfer once. And there's a kids' paddling class as well."
The August 11 competition launches from the ramp on Pierce Island. Each boat travels out about 300 yards to Round Island, makes a few loops (about half a mile each), then returns to shore. Spectators are also welcome, and typically gather on the banks of the Black Channel. "It's a small body of water, which makes it fun because you can watch it from shore," Glenn adds, "as opposed to most sailboat races."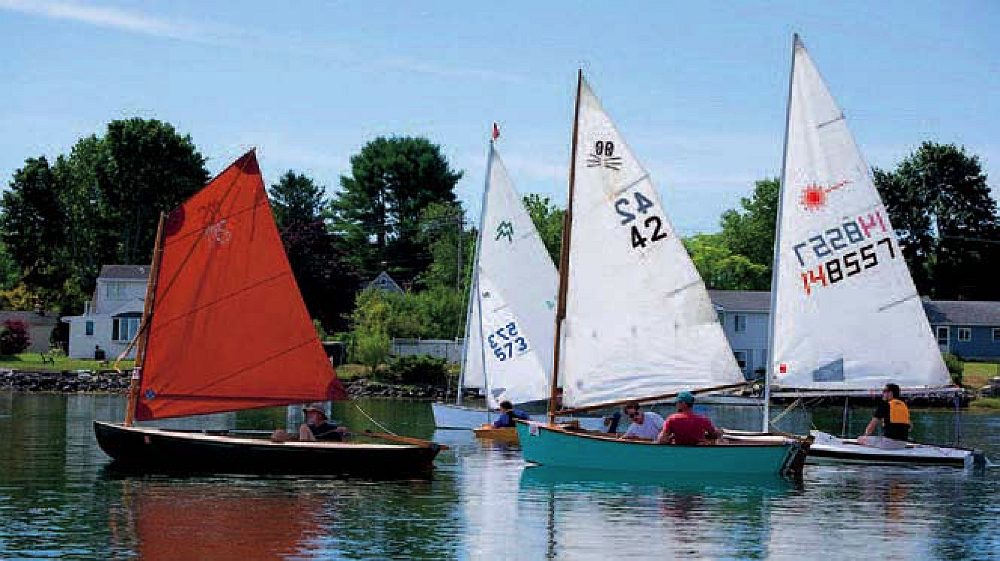 Photograph by Michael Sterling Photography
Besides sponsoring the regatta, which helps raise money to support its conservation and education mission, the Gundalow Company runs programs on marine and coastal ecology, along with public and private cruises on the Piscataqua River using its own gundalow, a replica of the region's original (pre-railroad) cargo-barges. It follows up the August racing festivities with a trophy and award ceremony—for best new and decorated boats, best costumes, and for sportsmanship—and a shoreline picnic spread.

Theater
American Repertory Theater
www.americanrepertorytheater.org
Hip-hop group STL GLD—Album, Video, and Producer of the Year winner at the 2017 Boston Music Awards—performs at Oberon. (August 3)
Drawing from the eponymous Langston Hughes poem, The Black Clown is a "music theater experience" incorporating vaudeville, opera, jazz, and spirituals to vivify a black man's powers of resilience. Starring bass-baritone Davóne Tines '09, with a new score by Michael Shachter '09. Loeb Drama Center. (August 31-September 23) 

Nature and science
Tower Hill Botanic Garden
www.towerhillbg.org
A day trip to the Boylston grounds offers a discussion on Impressionist paintings and garden talks and tours, along with a special Butterfly Walk with Massachusetts Butterfly Club naturalist and photographer Dawn Vesey.(August 18).


Arnold Arboretum
www.arboretum.harvard.edu
There are weekend horticultural tours and free-wheeling, family-fun explorations of this vital slice of the natural world in the middle of Boston.


Exhibitions & Events
Harvard Museum of Natural History
www.hmnh.harvard.edu
Lily Simonson: Painting the Deep features six original mural-sized paintings glowing with luminescent pigments, inviting viewers into an immersive experience of oceanic life. (Opens June 30)
MicroChefs: An Evening for Curious Adults. Learn about the beneficial microorganisms that create or contribute to wine, cheese, and chocolates—and other foods we love. (July 19)


Fuller Craft Museum
www.fullercraft.org
Playtime in the Making, an installation by artists Tommy Simpson, Karen LaFleur, Nancy Tucker, and Marlow Shami, highlights textiles, furniture, musical compositions, animation, writings, and other art forms to explore the critical importance of play and risk-taking in the creative process.(Opens May 19) 


Peabody Essex Museum
www.pem.org
Look for themes of family, memory, and mortality among the 125 photographs (many of which have not been publicized before) on display in Sally Mann: A Thousand Crossings. (Opens June 30) 


Cape Ann Museum
www.capeannmuseum.org
Harrison Cady: View from the Headlands. The illustrator created whimsical animal scenes for scores of children's books, as well as drawings for magazines and newspapers for more than 70 years. A longtime Cape Ann summer resident, he also produced lively landscape paintings of the region and its harbors. (Opens July 7)