Harvard Squared
Extracurriculars
Events on and off campus during September and October

Film |  Nature and Science | Lectures | Music | Exhibitions & Events | Theater

Film
Harvard Film Archive
www.harvardfilmarchive.org
"The B Film" series screens The Octopus!, Kid Glove Killer, and Weird Women, among other genre films from the mid 1930s to the 1948 Paramount Decree, underscoring the argument that they should be "recognized as a unique and quintessentially American art form." (September 13-November 25)
Democratic Republic of Congo documentarian Dieudo Hamadi, director of Kinshasa Makambo, the extraordinary 2018 account of three young political activists, is this year's McMillan-Stewart Fellow in Distinguished Filmmaking, and will be on hand to share and discuss his work. (October 4-9)
GlobeDocs Film Festival
www.filmfest.bostonglobe.com
This annual event, sponsored by The Boston Globe, features timely films, community gatherings, and conversations with journalists. Brattle and Coolidge Corner Theatres. (October 2-6)
Nature and Science
Garden In the Woods
www.nativeplanttrust.org
Step out for late-bloomers, libations, live music, and after-hours strolls during Asters in the Evening. (September 27)
The Arnold Arboretum
www.arboretum.harvard.edu
Fabric, Fiber & Phenology offers botanical-art prints, made from pressed leaves and other materials, by Steffanie Schwam and the citizen-science Tree Spotters Program. (Through October 6)
Lectures
Radcliffe Institute for Advanced Study
www.radcliffe.harvard.edu
"Writing Black Lives." Institute dean and Harvard Law School Paul professor of constitutional law Tomiko Brown-Nagin, joined by Princeton's Hughes-Rogers professor of African American studies Imani Perry and Harvard professor of studies of women, gender, and sexuality Robert Reid-Pharr, discuss how their work as biographers addresses timely topics. Knafel Center. (October 11)
"Science Symposium on Gene Editing" brings together leading international scientists, clinicians, and ethicists to explore case studies of select gene therapies—and the bioethical implications of such research. Knafel Center. (October 25)
Spotlight
Courtesy of Natalia Arbelaez
Works by Colby Charpentier and Natalia Arbelaez, Harvard Ceramics Program artists in residence, stretch the expressive language of clay—in the disparate directions of mind and body.
In "Devitrified," which refers to the growth of crystalline structures, Charpentier's technically precise, clean forms explore material questions: "What if we took clay out of the vessel and glaze was all that remained?" and "What does it mean to replicate a 3-D printing process by hand?" (September 3-27)
The Miami-born, Colombian-raised Arbelaez, however, creates earthy figures, like Montañas de Fuego (right). They evoke collective human memory and cultural identity, namely of Latin American and Amerindian people. As Arbelaez explains, these objects "contribute to a contemporary dialogue while simultaneously continuing the work of my ancestors." (October 5-November 1)
Harvard Ceramics Program
224 Western Avenue, Allston (Boston)
Music
Harvard Music Department
www.music.fas.harvard.edu
The Blodgett Chamber Music Series features the Parker Quartet performing works by Shostakovich and Dvořák. Paine Concert Hall. (September 20)
The riveting Canadian conductor and soprano Barbara Hannigan, subject of the documentary I'm a Creative Animal, delivers the Elson Lecture on "Equilibrium." Paine Concert Hall. (September 23)
Harvard-Radcliffe Orchestra
www.harvardradcliffeorchestra.org
The student-managed, professionally conducted symphony orchestra opens its 212th season with Gustav Mahler's monumental Ninth Symphony, his final completed work. Sanders Theatre. (October 5)
Exhibitions & Events
Harvard Museum of Natural History
www.hmnh.harvard.edu
A temporary special exhibit of the celebrated glass flowers, Fruits in Decay, features fascinatingly precise renditions of formerly edible objects. (Opens August 31)
Harvard Art Museums
www.harvardartmuseums.org
Winslow Homer: Eyewitness highlights illustrations that the American realist produced for Harper's Weekly. (Opens August 31)
Through more than 40 works by a cross-section of global contemporary artists, the ambitious exhibit Crossing Lines, Constructing Home: Displacement and Belonging in Contemporary Art examines the concepts of both national, political, and cultural boundaries and "evolving hybrid spaces, identities, languages, and beliefs created by the movement of peoples." (Opens September 6)
Peabody Museum of Archaeology & Ethnology
www.peabody.harvard.edu
To help mark 2019 as the "Year of Indigenous Languages," Mexican designer Gabriella Badillo, among others, presents her work during a program about "Maintaining Heritage Languages in Our Communities" (September 12). Badillo is also a featured guest for "Animated Tales for All," a series of short films narrated in 68 different indigenous languages of Mexico. (September 14)
Rose Art Museum
www.brandeis.edu
Through photographs, prints, drawings, sculptures—and rarely seen archival materials—Gordon Matta-Clark: Anarchitect explores the role of an artist in activism and in chronicling homelessness and derelict urban environments, especially during the tumultuous 1970s. (Opens September 21)
deCordova Sculpture Park and Museum
www.decordova.org
Truthiness and the News highlights the evidentiary role of photography, from the first half of the twentieth century and the heyday of print newspapers to the current era of "alternative facts." (Opens October 11)
RISD Craft
www.risdcraft.com
A smorgasbord of unique, cutting-edge works by more than a hundred of the school's student and alumni artists, like Candy Barr, Susan Freda, and Ahrong Kim. Peruse everything from wearable art and housewares to photographs, sculptures, and fine jewelry—with plenty of holiday-gift options. (October 12)
Peabody Essex Museum
www.pem.org
Order of the Imagination: The Photographs of Olivia Parker reveals the artist's masterly ability to spur dialogues among "nature and abstraction, permanence and ephemerality." (Through November 11)
Spotlight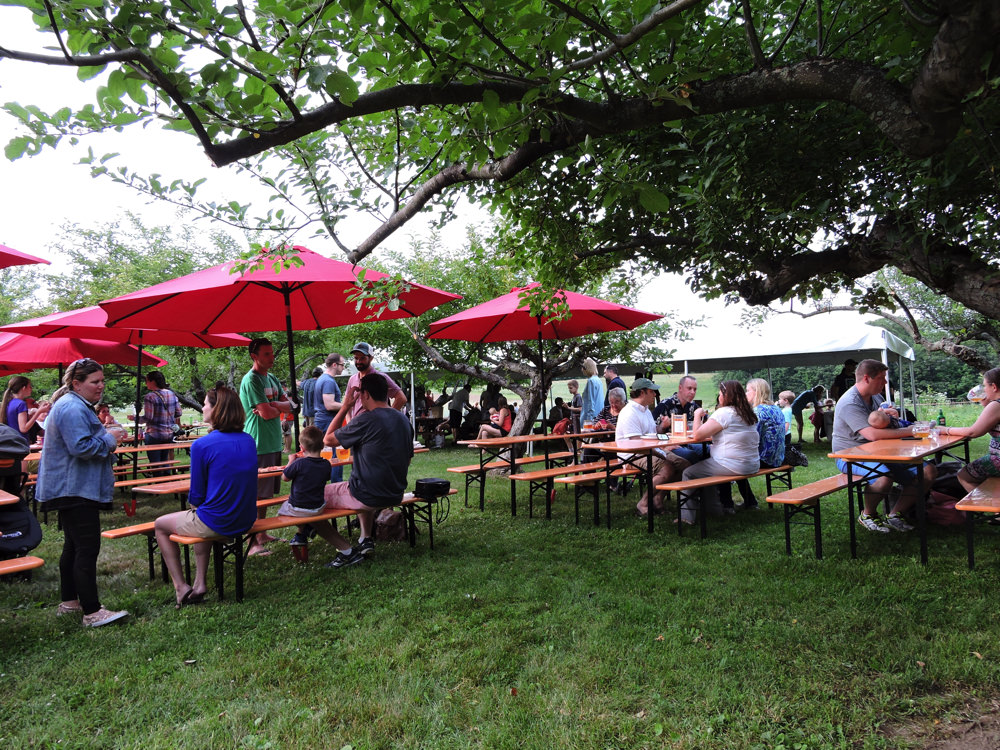 Courtesy of the Trustees
Catch the last of this year's family-friendly "traveling biergartens" hosted by The Trustees and Notch Brewing. The European-style community gatherings (at various beautiful and historic sites owned by the conservation organization) offer locally crafted, lower-alcohol "session" beers, along with activities like lawn games, live music, scavenger hunts, and property tours. This fall, the gatherings are held at: Minton Stable Community Garden, in Boston's Jamaica Plain neighborhood (September 20-21); Appleton Farms, in Ipswich/Hamilton (October 4-6); and at Weir River Farm, in Hingham (October 12-13). If biergartens aren't appealing, then check out "After Work Adventure: Bonfire on the Beach" (September 19 and 24), featuring a twilight hike in the dunes, sunset views, and a cozy blaze at The Trustees's Crane Beach, on Boston's North Shore.
Theater
American Repertory Theater
www.americanrepertorytheater.org
In Black Light, performance artist Daniel Alexander Jones sings, struts, and tells it like it is as his glamorous alter-ego Jomama Jones. Oberon. (September 19-29)
Billed as a galvanizing musical testament to "girl power," Six spotlights the historic stories of King Henry VIII's doomed wives. Loeb Drama Center. (Through September 27)
Central Square Theater
www.centralsquaretheater.org
The Crucible. A well-timed production of Arthur Miller's American classic about corrosive power. (September 12-October 13)
Huntington Theater
www.huntingtontheater.org
Tom Stoppard's Tony Award-winning tragicomedy Rosencrantz & Guildenstern Are Dead envisions the trajectories of two minor characters from Hamlet. (September 20-October 20)
Boston Lyric Opera
www.americanrepertorytheater.org
The season's debut, Pagliacci, stars tenor Rafael Rojas and soprano Lauren Michelle. (September 27-October 6)