Harvard Squared
Extracurriculars
Events on and off campus during July and August
Seasonal |  Music | Film | Theater | Nature and Science | Exhibitions & Events

Seasonal
Farmers' Market at Harvard
dining.harvard.edu/farmers-market
Enjoy fresh produce, specialty goods, and guest chefs. Science Center Plaza. (Tuesdays)
Music
Harborwalk Sounds
www.icaboston.org
The Institute of Contemporary Art (ICA/Boston) and Berklee College of Music host free, waterfront concerts. Featured artists include the Bob Marley tribute band One Drop (July 25), the young Afro-Cuban-Latin rhythm-and-blues ensemble Clave & Blues (August 15), and the Boston indie-rock trio Them Sounds (August 22). Boston Seaport district.
Nineteenth Annual GospelFest
www.boston.gov/summer-boston
Bring a picnic dinner and friends to New England's largest gospel-music celebration, featuring contemporary and traditional works performed by local and national choirs. Boston City Hall plaza. (August 11)
Film
Harvard Film Archive
www.harvardfilmarchive.org
Joan Tewksbury's Old Boyfriends. This deceptively radical 1979 film follows a psychiatrist who, in the midst of an emotional crisis, takes a road trip in search of old flames. Starring Talia Shire, John Belushi, and Keith Carradine. (August 23-25)
Dark Waters—All-Night Movie Marathon explores what happens to those who dare to step off dry land. Screenings include Purple Noon, The African Queen, Knife in the Water, Fitzcarraldo, The Poseidon Adventure, and Kon Ichikawa's Alone on the Pacific. (August 31-September 1)
Spotlight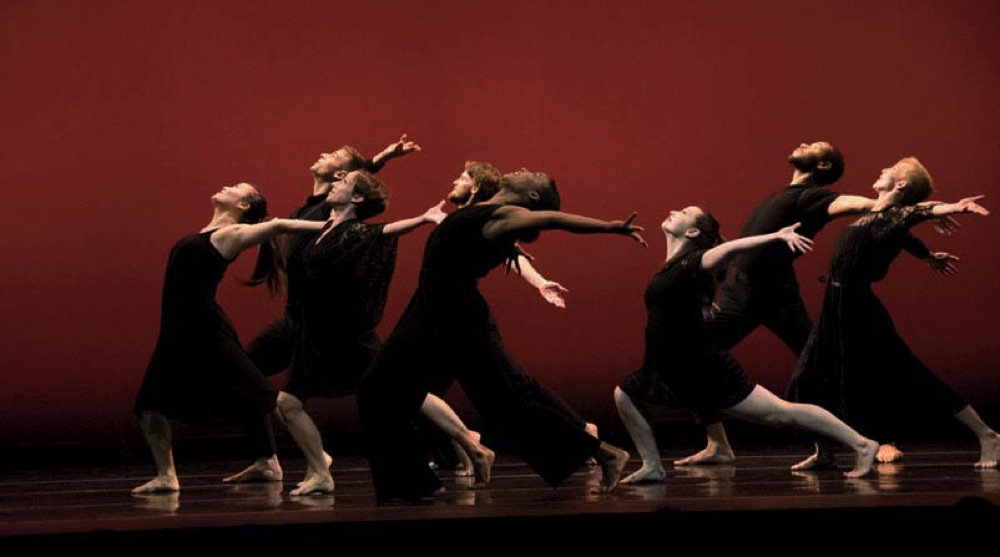 Courtesy of The Boston Contemporary Dance Festival
Urbanity Dance hosts about 30 local and national companies during its annual Boston Contemporary Dance Festival. Among them is the nonprofit's own troupe, seen above in a 2018 performance of "New Second Line," by choreographer Camille A. Brown. Building on the organization's mission to "engage, inspire, and empower" through the art of movement, the half-day event is also a chance to freely explore the diversity and definitions of "contemporary dance." As a genre, it developed in the mid 1990s, integrating classical ballet, modern, and jazz techniques, says Betsi Graves, founder and director of Urbanity Dance, which also leads commmunity- and school-based dance programs. To that stylistic mix, she adds "hip-hop and global," and often tells students that "there is no wrong answer for contemporary dance-makers inspired by relationships, emotions, and the human body."
Boston Contemporary Dance Festival
August 10
Huntington Avenue Theatre
Theater
Shakespeare on the Common
www.commshakes.org
The Commonwealth Shakespeare Company presents free, outdoor performances of Cymbeline. The play chronicles the fateful adventures of a royal family, notably of the king's daughter, and iconic heroine, Imogen. Parkman Bandstand, Boston Common. (July 17-August 4)
American Repertory Theater
www.americanrepertorytheater.org
Produced in collaboration with Company One Theatre, the site-specific Greater Good, by Obie Award-winning playwright Kirsten Greenidge, looks at Greater Boston's historic educational hub through the drama of a progressive school striving to live up to its mission. Commonwealth School. (July 17-August 17)
Nature and science
Arnold Arboretum
www.arboretum.harvard.edu
Enjoy hundreds of fragrant lilies—and learn more about the versatile, herbaceous flowering genus Lilium—at the seventy-second Annual International Lily Show. (July 13.)
Tower Hill Botanic Garden
www.towerhillbg.org
Concerts, classes, kid-centered events, weekend guided tours, "Beer Garden Fridays"—and more. The Boylston, Massachusetts, preserve also offers free admission after 3 p.m. on Thursdays through August.
Exhibitions & Events
Harvard Museum of Natural History
www.hmnh.harvard.edu
A Lunar Soirée celebrates the fiftieth anniversary of the 1969 moon landing with an evening of 1960s music, cocktails, and light refreshments. (July 20)
Harvard Art Museums
www.harvardartmuseums.org
Through some 200 works by 74 artists, The Bauhaus and Harvard honors the centennial of the founding of the influential design movement in Weimar, Germany. (Through July 28)
Isabella Stewart Gardner Museum
www.gardnermuseum.org
Big Plans: Picturing Social Reform. Landscape architects and street photographers, like Lewis Wickes Hine, viewed salient aspects of American culture during the late 1800s and early 1900s, and advocated for change. (June 20-September 15)
Fuller Craft Museum
www.fullercraft.org
Take It Outside: Works from the Boston Sculptors Gallery. See a range of dynamic works while exploring the museum's plush, 22-acre park. Also on display, indoors, this summer: Brockton Youth Create and Tending the Fires: Recent Acquisitions in Clay. (June 22-October 27)
Peabody Essex Museum
www.pem.org
More than a hundred painterly, dream-like images explore the natural world, along with the nature of knowledge and memories, in Order of Imagination: The Photographs of Olivia Parker. (Opens July 13)
Society of Arts + Crafts
www.societyofcrafts.org
The ceramic installation Linda Huey: Dark Garden features wondrous flowers, plants, and sprites—but a closer look also reveals scrap metal, chemical contamination, and nature struggling to thrive amid environmental degradation. (Through July 21)
Addison Gallery of American Art
www.addisongallery.org
Rescued from deep storage, large-scale photographs in John Goodman: not recent color depict American urban life in the 1970s and 1980s. (Through July 31)