News
DACA Deferred
1.23.18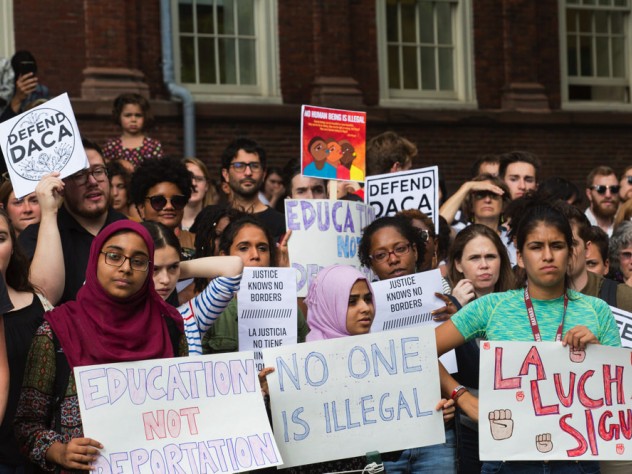 Photograph by Jon Chase/Harvard Public Affairs and Communications
Photograph by Jon Chase/Harvard Public Affairs and Communications
The congressional budget deal that re-opened the federal government last night has left undecided the fate of hundreds of thousands of "dreamers" (undocumented immigrants who were brought to the United States as children)—including several dozen Harvard students. In exchange for a promise from majority leader Mitch McConnell that the Senate will consider legislation sorting out the fate of the dreamer population by mid February, Senate Democrats have agreed to a stopgap bill that will fund the government through February 8.
Last week, University president Drew Faust wrote to members of Congress to urge a permanent, legislative solution to the Deferred Action for Childhood Arrivals (DACA) program, which President Donald Trump had rescinded in September. "With each passing day, anxiety grows for thousands of young people in states and on campuses across the country as the uncertainty over DACA and the future of the DREAMers continues," she wrote. She continued:
Their stories are well-known, coming to the United States as children, studying, working, serving, and achieving in their adopted home communities but without clear status and citizenship. From my years as president of Harvard, I know many DREAMers—bright, talented, and eager to contribute. On our campus and across the country, these are the students, innovators, professionals, small-business owners, and dedicated workers we see in our everyday lives, as well as the service members we depend on to protect us. Their contributions benefit us all.
It's unclear exactly how many Harvard affiliates are affected by DACA, but at least 60 undocumented students are enrolled at the University. Faust has been an early supporter of a long-term legislative solution to the status of the dreamer population. She and dean of Harvard College Rakesh Khurana condemned the Trump administration's September decision to repeal DACA. The Obama-era program had shielded from deportation about 800,000 young, undocumented immigrants who were brought to the U.S. as children, who have not been convicted of a felony, significant misdemeanor, or three other misdemeanors, and who are currently in school, have graduated, or have been honorably discharged from the military. It did not provide permanent residency or a path to citizenship. 
Referring to the dreamers' uncertain status and the recent, separate revocation of Temporary Protected Status (TPS) for Salvadorans who have been permitted to live in the United States since a massive earthquake struck that country in 2001, Jason Corral, an attorney for the Harvard Immigration Refugee and Clinical Program, said, "The elimination of DACA and the elimination of TPS on top of that will drastically impact the Harvard community." Corral was hired last year to provide legal services to undocumented Harvard affiliates. "Individuals with DACA and TPS status," he continued, "play a very important role not only in the academic environment but also in logistical operations at Harvard."
Earlier this month, a California federal district judge ordered the Trump administration to continue to allow DACA recipients to renew their DACA protections. But the U.S. Citizenship and Immigration Services (USCIS) is neither accepting new DACA applications (meaning anyone who doesn't already have DACA protection is not eligible to apply) nor granting DACA recipients advance parole to freely exit and enter the country. Meanwhile, the Trump administration has asked the U.S. Supreme Court to look at the case and grant permission to proceed with a full rescission of DACA. 
According to Corral, students who are no longer eligible for DACA may be eligible for other forms of immigration relief, including "family-based petitions, employment-based petitions, and humanitarian relief such as asylum or protections for victims of crime or domestic violence." The Harvard Immigration Refugee and Clinical Program offers free legal consultations to students considering renewing their DACA status or exploring other options. In some cases, the University may also provide undocumented students with financial assistance to cover the costs of immigration forms, including the $495 DACA renewal fee. The University also maintains its longstanding policy of not disclosing information about students' immigration status to authorities. 
The Department of Homeland Security (DHS) has stated that the dreamer population won't be a priority for deportation even after DACA ends, but the administration and congressional Republicans—particularly in the House of Representatives—have not sent consistent messages about their intention to negotiate a solution for the population covered by DACA. As Corral points out, "The one thing that has been consistent is that DHS and ICE [U.S. Immigration and Customs Enforcement] are moving forward with a policy of indiscriminately removing people. There seems to be very little prosecutorial discretion being used." He adds, "Until we have a long-term solution that protects people that currently have DACA, and their families, we will always have something to worry about." All these issues have escalated under the Trump administration, which has expanded the categories of immigrants who may be subject to deportation—continuing a longstanding national inability to agree on immigration reform.