News
Changes to Social-Club Sanctions Possible
1.25.17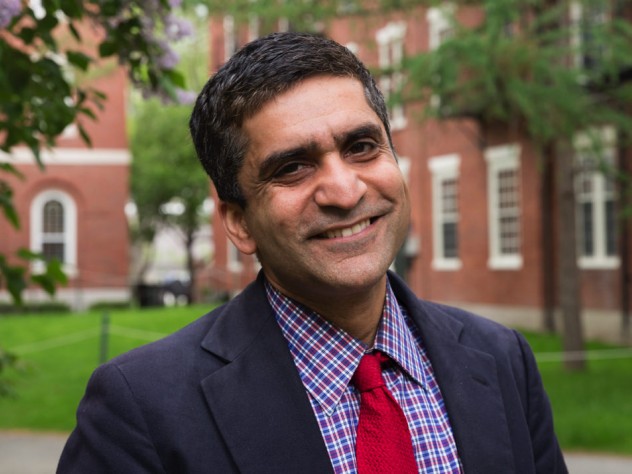 Courtesy of Harvard Public Affairs & Communications
Courtesy of Harvard Public Affairs & Communications
Dean of the College Rakesh Khurana announced today that the existing policy on unrecognized single-gender undergraduate social organizations could be changed or revised by a faculty committee. That policy, set to take effect with the incoming class of freshmen this fall, prevents student members of such organizations from holding leadership positions in recognized undergraduate organizations, and precludes their eligibility for Rhodes, Marshall, and other scholarships that require College endorsement. When it was announced last spring, the policy swiftly drew criticism from faculty and students alike, though for different reasons.
Khurana said he has recommended to Faculty of Arts and Sciences dean Michael D. Smith the establishment of a faculty committee to consider whether the College's policy on single-gender undergraduate organizations could be improved, "either by changing aspects of its existing structure, or through some broader revision." The committee, which will be composed of faculty and House deans, members of the educational policy committee and the administrative board, faculty members, students, and staff, will conclude its work by the end of this academic year and present its recommendations in the fall, with time for broader faculty input before those are forwarded to President Drew Faust for approval. In the meantime, Khurana said, the current policy remains in effect.
In a letter to the community, Khurana explained that the committee, in forming its recommendations, will "review data that have been compiled by the College and the University over the past three decades, including Visiting Committee and Overseers reports, survey data, and findings from other colleges and universities, as well as data collected by the University Task Force on Sexual Assault. The committee will also consult with members of faculty-student committees…on issues related to student social life and belonging and inclusion. It will also welcome input from faculty members."
Discussions of the original sanctions policy, which was announced without prior vote of the faculty, have consumed the better part of the November and December faculty meetings. Khurana's announcement may defuse tensions over the issue, and allow the faculty to take up other business.
An analysis of the core of the faculty objections to the policy—which range from the procedural, to the practical, to the philosophical—appeared on this site in December.