Arts
Contextualizing Inauguration Day through Presidential Portraits
1.20.17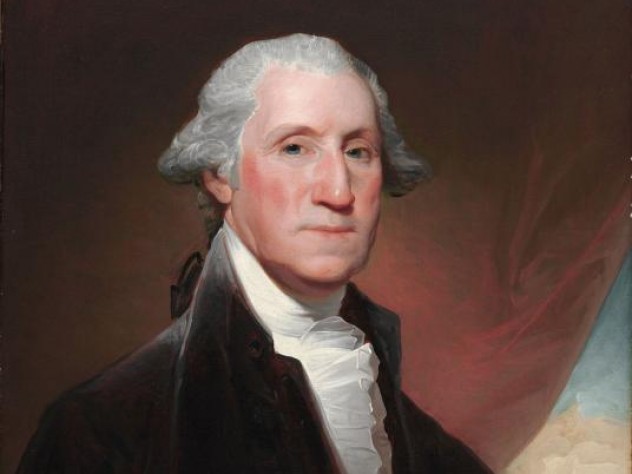 Courtesy of Harvard Art Museums; © President and Fellows of Harvard College.
Courtesy of Harvard Art Museums; © President and Fellows of Harvard College.
The group of visitors who crowded around to hear a gallery talk about presidential portraits at the Harvard Art Museums today were, perhaps inadvertently, participating in a form of creative resistance. Ethan Lasser, head of the division of European and American art and the Stebbins curator of American art, made no pretense about scheduling his talk while the forty-fifth president of the United States was officially being sworn in. "Many of my colleagues in the arts community are refusing to open their galleries today as a form of resistance," he said. He then invited visitors to take advantage of this opportunity to consider the relevance of artwork from centuries ago while taking in the day's events. 
In a brief 30-minute talk, Lasser engaged museum-goers on two different portraits of George Washington. The first, an oil painting commissioned by the state of Virginia, depicts a critical moment, the surrender of Yorktown. Although that military victory marked the end of the Revolutionary War, Lasser remarked, Washington is not portrayed in the midst of violence: "The artist, Charles Peale, was a soldier himself, and could have easily chosen to place Washington in a familiar wartime environment. He instead made the deliberate choice to focus on negotiation and peace to characterize his subject." A soldier carrying a French flag upright walks into the distance behind Washington, accompanied by a soldier carrying a drooping, fallen British flag. A quill and parchment sit to Washington's right, where one might expect to see a sheathed weapon, drawing further attention to Washington's diplomatic character instead of his battlefield prowess.
A second painting features  Washington as painted by Gilbert Stuart. Washington was particularly conscious of his appearance in public and in paintings, but in this depiction, he is very much the everyman. "Washington's red cheeks show passion and action, but his pursed lips symbolize honor and restraint," explained Lasser. Stuart's work grounds power in his subject's face, without ornate crowns, capes, or scenery. Lasser evoked TIME Magazine's cover this December, depicting Donald Trump as its Person of the Year, seated in an imperious golden chair—a striking departure from Stuart's humble yet stately image of Washington.
Both at the beginning and end of his talk, Lasser encouraged visitors to "use these images of the past to examine the images coming out of Washington right now." The discrepancies were impossible to ignore—and the question-and-answer segments after each painting repeatedly circled back to the differences between America's founding father and its new president. Lasser's  lesson was clear: historical images offer us a lens to understand our own political leaders.