Harvardiana
Harvard Square History Quiz
Think you know Harvard Square? Take our quiz--and submit your answers to be enrolled in a contest to win a copy of Harvard Square: An Illustrated History Since 1950 by Mo Lotman. For the accompanying article, see "Pictures in the Square," November-December 2009.
Note: The contest has ended. The answers, along with the winner and runner-up, are posted here.
1. What is the maximum number of gas stations that operated in Harvard Square at any one time since 1950? (Today, there are none.)
 
2. In what Harvard Square club did Joan Baez give her first concert, and how old was she at the time?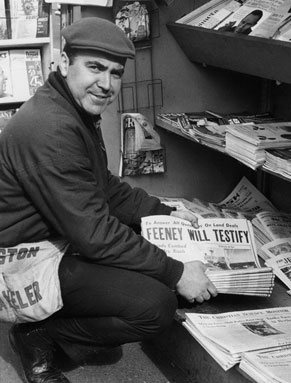 Photo courtesy of Boston Public Library, The Boston Herald
3. What is this man's name and what business did he own?

Photograph by Lynn Millar/Radcliffe Archives (http://www.radcliffe.edu/schles/)
4. What was the name of this bookstore and what was its motto?
Photograph by David Hunsberger
5. What is the name of this café?
Photograph by Hugh Blackmer
6. What is this man's name and what kind of business did he run?
7. What international soap chain began in the equipment room of the Brattle Theatre?
Photograph by Elsa Dorfman
8. What bookstore did the man on the right found in 1927, and what is his name?
9. What now stands on the site of the original Design Research?
Photograph by Harvard Magazine/VL
10. What function did this building serve before it became a shopping mall, The Garage?
Photograph by Eric Antoniou
11. What is the name of this bar and restaurant?
12. What record album did Van Morrison write while living on Green Street in 1968?
Photograph by Harvard Magazine/VL
13. What year did Leavitt & Peirce open?