Main Menu · Search · Current Issue · Contact · Archives · Centennial · Letters to the Editor · FAQs
---
In this issue's John Harvard's Journal:
This Was the Year - Images of Commencement - Honoris Causa - A Taste of the Talk - Martha Minow: The Uses of Memory - Neil L. Rudenstine: Challenges to Come - Alan Greenspan: The Value of Values - Commencement Confetti - Living Wages - Radcliffe's Rebirth - Merger of the Century - Community Policing - Hemorrhage at the Teaching Hospitals - Human Rights, Front and Center - Undergraduate Advising Examined - Big Doings at Widener Library - University People - Brevia - The Undergraduate: Saying Good-bye - ROTC Resurfaces - Friendships Forged in Strenuous Rivalry - Springing into Sports
---
Honoris Causa
One woman and seven men received honorary degrees at Harvard's 348th Commencement. In order of presentation, the honorands were: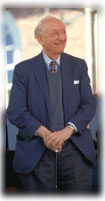 Herblock
Kenneth J. Arrow, Kenney professor of economics emeritus and professor of operations research emeritus, Stanford University; former Conant University Professor at Harvard; discoverer of the "impossibility theorem," which transformed the field of social-choice theory; and Nobel laureate. Doctor of laws: A scholar who fathoms the impossible, he distills wisdom from the flux of economic currents, and applies it in pursuit of a fairer world.
Andrew F. Brimmer, Ph.D. '57, president of Brimmer & Company, an economic and financial consulting firm; Barrett professor of economics at the University of Massachusetts, Amherst; longtime citizen of the University, having served twice as Overseer; and the man on whom President Clinton called to rescue the nation's capital city from bankruptcy. Doctor of laws: Pathbreaking public servant and wise trustee, inspiring educator and capital problem-solver, he resolutely points the way toward prosperity and opportunity.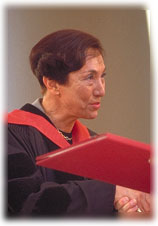 Kristeva

Herbert Block, known to his fans as Herblock, who has drawn, "and often quartered," public figures for more than 50 years as editorial cartoonist for the Washington Post. Doctor of arts: An icon of iconoclasts, whose artful irreverence, arresting images, and irrepressible conscience mark him as our modern-day Daumier.

David Roxbee Cox, for more than two decades a professor at Imperial College, London; more recently warden of Nuffield College, Oxford; who has been called the "greatest living statistician"; whom one might call "'peerless,' had he not been knighted in 1985." Doctor of science: Sage of the statistical, nobleman of the numerical, whose ingenious models shape his field, enlarging its reach and marking our lives.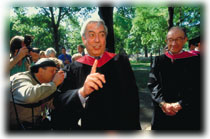 Llosa and Greenspan

Julia Kristeva, literary theorist, professor at the University of Paris, practicing psychoanalyst, novelist. Doctor of laws: Perspicacious reader of modern life, boldly traversing different domains, she excavates meanings beneath the surface of language and ennobles the life of the mind.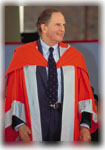 Bailyn

Mario Vargas Llosa, novelist, candidate in 1990 for the presidency of Peru, and in 1992-93 Kennedy visiting professor of Latin American studies at Harvard. Doctor of letters: Stirring storyteller and impassioned defender of democratic ideals, he fuels his imagination on the perplexity of reality, in quest of contradictory truths.

Bernard Bailyn, Ph.D. '53, Adams University Professor and Phillips professor of early American history emeritus at Harvard, twice winner of the Pulitzer Prize, last year named the Jefferson Lecturer, the nation's highest honor for scholars in the humanities. Doctor of laws: Brilliant expositor of a budding nation's beginnings, exemplar of the historian's craft, he reveals the sparks that kindled America's sacred fire of liberty.

Alan Greenspan, chairman of the board of governors of the Federal Reserve System. Doctor of laws: An estimable figure of compelling interest and quintessential reserve, whose steady hand is visible in markets worldwide; with his watchful eye on a wide span of trends, he keeps America green.
---
Main Menu · Search · Current Issue · Contact · Archives · Centennial · Letters to the Editor · FAQs