Main Menu · Search ·Current Issue ·Contact ·Archives ·Centennial ·Letters to the Editor ·FAQs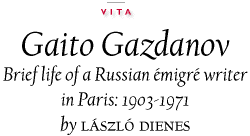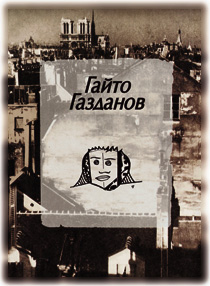 A 1930 "portrait" of Gazdanov by fellow émigré writer Aleksei Remizov appears on the cover of a recent Russian edition of Gazdanov's collected works. COVER DESIGN BY T.N. RUDENKO AND S.A. STULOV FOR GAITO GAZDANOV SOBRANIE SOCHINENII V TREKH TOMAKH (MOSCOW: SOGLASIE, 1996)
He tried hauling loads to and from barges on the seine (not for human beings!). He washed locomotives and worked on the assembly line at Citroën (brain death!). He tried the life of a tramp on, and under, the streets of Paris. He tried deskwork in the publishing house Hachette (boring!). As a student at the Sorbonne, he listened to flowery speeches about "the sacred flame of the revolution" by professors who never left the security of their apartments (lies! theories!). Finally, toward the end of the 1920s, he tried driving a taxi at night. It worked--at least, it allowed him to eke out a living, and more important, it left him enough time for his real life, to be a Russian writer. From 1926 on, Gaito Gazdanov was an active participant in the rich cultural life of Russian Paris, and regularly published short stories, and later novels, in the best Russian émigré literary journals.
The 20-year-old who arrived in Paris in 1923 had already survived the death of his father and both sisters, the turmoil of World War I, the shock of the 1917 Bolshevik coup, and the chaos of civil war, during which, as a 16-year-old in the White Army, he served on the platform of a machine-gun carrier. The early short stories and novels dealt with this Russian experience. But by the mid 1930s, the years in Paris turned Gazdanov's themes toward life, Russian or French, in France. In time, even some of his characters became French, and only the language (Russian) and the perspective (always Gazdanovian) remained related to Russian literature. Paradoxically, the preface to a recent French translation of one of his best novels, Night Roads, talks about his bizarre tour de force of becoming "un écrivain français de langue russe." Yet Gazdanov--born in St. Petersburg into a Russified family from Ossetia (a small non-Slavic nation in the Caucasus), who never learned any Ossetian but learned French to near perfection--never wrote in any language but Russian and enriched Russian fiction with a new frisson: with the welcome clarity of French meditative prose on the more emotional "Slavic disorder" of Russian.
So much of Gazdanov's work comes from real life, one could write his "autobiography" based on his fiction. His first and still best-known novel, An Evening with Claire, published in 1930, has its young hero, clearly the writer's alter ego, meet his former sweetheart in Paris; from then on the novel is a voyage into memory, in search of their lost life and love back in Russia. No wonder critics spoke about the influence of Proust. The History of a Journey, on the other hand, is a joyful celebration of sensual pleasures amid the difficulties encountered by émigrés, rich or poor. The Flight depicts a complicated set of amorous relationships in a Mozartian blend of lightness and tragedy. But the 1939 Night Roads, his only book to deal directly with the Parisian underworld he was exposed to as a cabdriver, offers a mercilessly bleak vision of the debris of human society, without hope, forgiveness, justification, or redemption.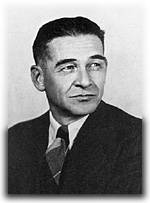 Gazdanov in 1950, at the height of his success in English.
During World War II, Gazdanov joined the French Resistance and tried a new genre. Both The Specter of Alexander Wolf and Buddha's Return are "metaphysical thrillers" in which a criminal plot is combined with meditations on death, chance, fate, and predestination. After a French translation in 1951, critics compared Gazdanov to Camus. Working for Radio Liberty from 1953 until his death, he continued writing fiction. Pilgrims and The Awakening are moral tales expressing his newly found "existential humanism": the meaning of life is helping others, even if chance and death render our actions pointless. Evelyne and Her Friends, Gazdanov's last completed novel, serialized from 1968 to 1971, is a novel about the novel and about metamorphoses, including the transformation of life into art that is made to happen so vividly and convincingly in the pages of this work, in the very text we are reading.
Gazdanov the writer was reborn around 1990. With the collapse of Communism, formerly banned émigré authors were finally made available to the people they wrote for: since 1988, more than 50 works by Gazdanov have appeared in Russia. But only three of his novels have been published in English: his two thrillers (The Specter of Alexander Wolf was even turned into an American television drama), and An Evening with Claire. Gazdanov is hard to translate. Following the classical dictum ars est celare artem, he "hid" his translucent style in his deceptively simple, yet smooth and melodious, Russian. His prose explored the minutiae of the human psyche in the only language it can be done in: the native tongue the heart and mind think and dream in, automatically, unconsciously, involuntarily. This expains why Gazdanov never switched to another language (as did his fellow émigré, Vladimir Nabokov), and remained, therefore, in relative obscurity. It also explains why translating him is such a challenge: his prose has to be recomposed into the chamber music of English. We are still waiting for the poet who will be up to the task.
---
László Dienes, Ph.D. '77, teaches Russian literature and digital culture at the University of Massachusetts at Amherst. He organized the current Houghton Library exhibit Gaito Gazdanov and Russian Literature in Exile, based on materials donated to Harvard by Gazdanov's widow in 1975.
---
Main Menu · Search ·Current Issue ·Contact ·Archives ·Centennial ·Letters to the Editor ·FAQs