Main Menu · Search · Current Issue · Contact · Archives · Centennial · Letters to the Editor · FAQs
---
Return to High Type Culture.
---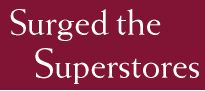 Bookstore chains like borders and Barnes & Noble now control about 40 percent of the market for adult hardcover trade books; editor Allen Peacock '76 of Henry Holt notes their "near-total domination of the industry." Although the proliferation of superstore outlets (until recently, Barnes & Noble has been rolling out more than 90 new superstores annually) has expanded booksellers' retail space dramatically, the overall sales of adult trade books--the creative core of the publishing business--have declined by more than 5 percent for two straight years. "We are having fits about that brutal fact. How can it be? What does it mean--changing demographics, television, the Internet?" asks Peacock.
It may simply mean that the relentless expansion of bookselling over the past few years created such high benchmarks that a percentage decrease was inevitable. "There's been a huge increase in the number of copies sold of top-selling books," says Michael Pietsch '78, a vice president and executive editor at Little, Brown & Co. "Books are selling in numbers that were inconceivable even five years ago. It's been an extra boon for both authors and publishers." The retail expansion has raised sales figures not only for brand-name authors like Michael Crichton '64, M.D. '69, but also for books like Snow Falling on Cedars by David Guterson, a literary novel that has sold about 2 million copies in trade paperback. The increase in potential revenue also has induced publishers to gamble bigger sums on books that might take off--"but when they guess wrong, it can be a costly disaster," says Pietsch.
The chains' concentrated marketing power allows them to make or break a book--and to do so early in the process. Advance orders from chains obviously affect the size of a book's first printing, but recently some publishers have begun asking the superstores to evaluate the commercial potential of proposed titles and dust-jacket designs. Jonathan Galassi believes that "publishers should really resist that kind of input from sales outlets; it's the publishers' prerogative--and responsibility--to create their product. Yet the influence of these two or three large customers can't help but be felt. The trouble is that the book chains are just as fallible as anyone else--they don't know what's going to happen with a book. They try to get it down to a science, but luckily, it's not--that would be so boring. Thank God, human foibles and quixotism are still the determining factors!"
At the retail end, heterogeneity is imperiled. Independent booksellers, who once held 50 percent of the marketplace, have dropped almost overnight to less than 20 percent as the chains have burgeoned. "The superstores have quite systematically destroyed the fine old independents," Peacock says. "They'll go in right next door and discount them to death."
The structural changes in book retailing--the rise of superstores and the demise of independent booksellers--are hurting "midlist" books. This term once meant titles selling 5,000 to 10,000 copies, but today, big houses like Simon & Schuster extend the midlist range up to 30,000 copies. "Midlist books have felt the most severe impact. They have to fend for themselves, based on reviews and word-of-mouth," says Peacock. "The great majority are dying a very quick and unmourned death in the marketplace." Galassi observes that, "Unlike independents, chain bookstores don't have personnel who know the stock--so if you don't have big promotion and publicity, these books tend to get lost in the stores. It isn't the ideal place to launch something new.
"In the old days people would take on a first novel that they thought was good," Galassi continues. "They still do--but there's a higher bar than there used to be. It was easier to take risks when you could sign a first book for $3,000, then maybe pay $3,500 the second time. Now there is much more money at stake. Still, it's not that hard to get a first book published if it's genuinely good. The harder thing is: what do you do with an author whose first book, or first couple of books, haven't panned out? It's a question of keeping faith with an author when nothing has really happened."
New York literary agent Andrew Wylie '70 thinks that "the total sales of books will continue to rise. This, in combination with high return rates, will lead the conglomerates to demand a harder focus on what they choose to publish. The industry needs to reduce the number of books published by 40 percent, and to focus more clearly on the books they do publish: make them mean more, count more. Now, there are far too many books--bad books, one-time books that serve no purpose, books that reek of commercial ideas: 'Combine the "green movement" with a cookbook'....Eventually we'll see the number of books published shrink, while the number of copies sold increases. All that seems very healthy."
---
Return to High Type Culture.
---
Main Menu · Search · Current Issue · Contact · Archives · Centennial · Letters to the Editor · FAQs