Harvard Squared
Extracurriculars
Events on and off campus during May and June

From Left: Harvard Film Archive; Harvard Ceramics Program; Susan Kapuscinski Gaylord

Seasonal | Nature and Science | Theater | Exhibitions & Events | Film | Lectures | Music
Seasonal
Ceramics Program Spring Show and Sale
https://ofa.fas.harvard.edu
Unique works—from vases and dinnerware to jewelry and garden sculptures—by more than 70 artists. (May 10-13)
Cambridge River Arts Festival
www.cambridgema.gov
Live performances of dance, theater, music, and poetry, along with community and art vendors, and all kinds of food from around the globe. Lechmere Canal Park. (June 2)
Park Fest
www.decordova.org
The day-long celebration of "art, nature, and creativity" at DeCordova Sculpture Park and Museum in Lincoln, Massachusetts. The line-up includes a 5K run, sculpture hunts, food trucks, art demonstrations, and art-making opportunities (for any age) that are inspired by the museum's spring exhibits—Sculpting with Air: Ian McMahon and John Oh and Lived Space: Humans and Architecture. (June 23)
Boston Historical Costumers' Picnic
Anyone can join in this second annual stylish homage to the past by showing up in outfits, from elaborate to vintage to casual, that pre-date 1960, and enjoying an afternoon by the river. Charles River Esplanade. (June 25)
Boston Harborfest
www.harborfest.com
More than a hundred events help celebrate America's birth, from historic reenactments and Freedom Trail tours to concerts, a "chowderfest," and an outdoor screening of Yankee Doodle Dandy. (June 29-July 1)
Spotlight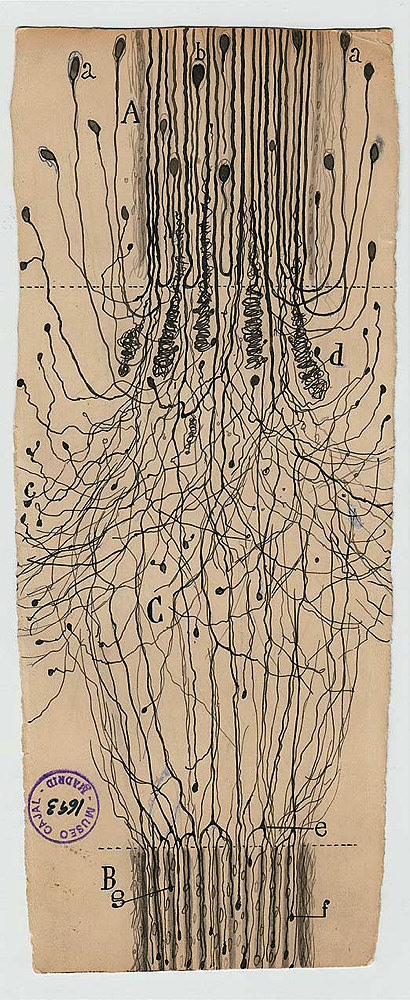 Courtesy of Intituto Cajal
Opening May 3 at the MIT Museum, "The Beautiful Brain: The Drawings of Santiago Ramón y Cajal" features 80 works by the Spanish neuroscientist and pathologist. His explorations into microscopic structures of the brain earned him the Nobel Prize in 1906, yet he was also an exceptional artist. He pursued medicine and science on the advice of his father, and easily combined drawing with his study of anatomical forms.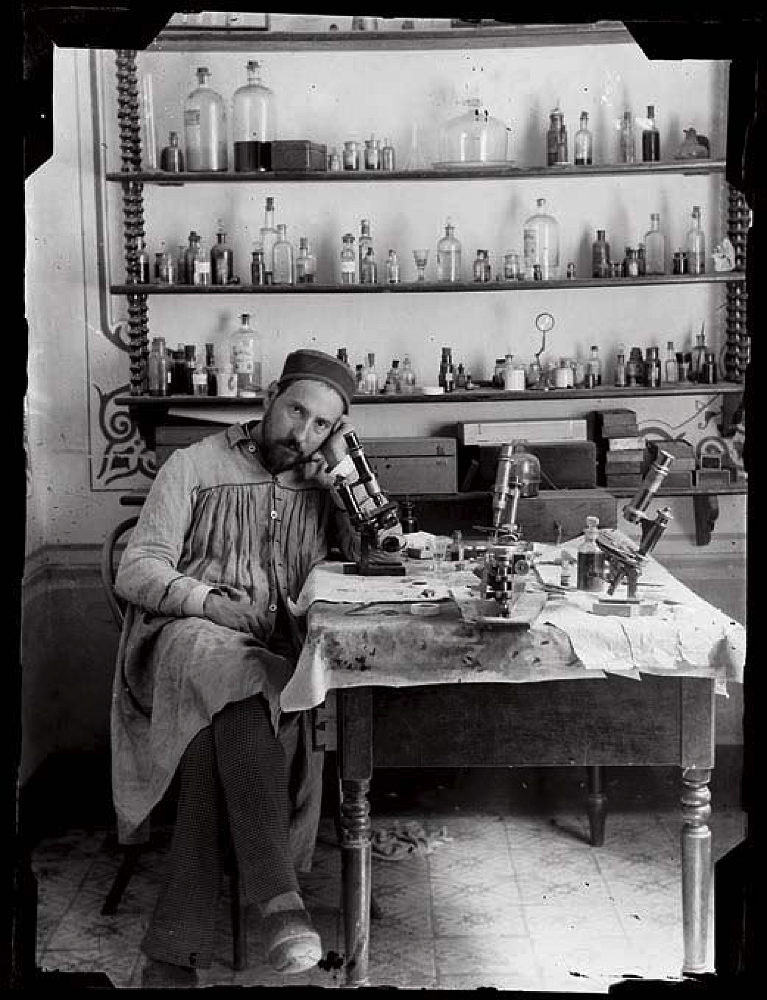 Courtesy of the MIT Museum
The renderings now on display at the museum date from the 1880s through the early 1930s. They depict neural pathways and cellular activity  through squiggles, cross-hatchings, dots, blobs, and swirls that swim elegantly across the pages. "Purkinje neurons from the human cerebellum" resembles a waving fan of sea coral; "tumor cells of the covering membranes of the brain" could be tree bark. The 1913 pen-and-ink drawing at right, of "a cut nerve outside the spinal cord," evokes an aerial view of pent up streams and tributaries finally let loose. At once abstract, accurate, and beautiful, these intricate works speak to the dynamic universality among organic forms.
MIT Museum
https://mitmuseum.mit.edu
Nature and Science
The Arnold Arboretum
www.arboretum.harvard.edu
The Spirit Books. Artist Susan Kapuscinski Gaylord incorporates tree branches, roots, and vines in her hand-stitched, wordless book sculptures, and encourages viewers to "read" them as contemplative connections to nature. (Opens May 4)
Impressions of Woody Plants: Disjunction, Two Artists, and the Arnold Arboretum explores exotic and native plant life, along with the relationship between botany and art through copper etchings by Bobbi Angell and watercolor paintings by Beverly Duncan. (Opens May 11)
Tower Hill Botanic Garden
www.towerhillbg.org
Join docents for weekend tours, take gardening and art classes, or just stop by Tower Hill anytime—or on Family Day, which offers activities for all ages, including a talk and book-signing by Jana Milbocker, author of The Garden Tourist: 120 Destination Gardens and Nurseries in the Northeast. (June 16)
Theater
American Repertory Theater
www.americanrepertorytheater.org
Jagged Little Pill explores the story behind the eponymous Grammy Award-winning 1995 album by Canadian-born singer and musician Alanis Morissette. Directed by A.R.T. artistic director Diane Paulus. Drama Center. (May 5- July 15)
Wig Out! is a fun and illuminating look at the culture of "drag balls," in which contestants from respective family "houses" strut their stuff—attitude, dancing, costumes, impersonations, etc.—for applause and prizes. The show, presented with Company One Theatre, in Boston, was written by Tarell Alvin McCraney and directed by Summer L. Williams. Oberon. (Through May 13)
Exhibitions & Events
Houghton Library
www.hcl.harvard.edu/libraries/houghton
Balanchine at Home and Abroad: Ballet as Cold War Cultural Exchange offers vibrant and historic souvenir programs from performances by George Balanchine's New York City Ballet in the Soviet Union and the Bolshoi and Kirov Ballets' visits to the United States in the 1960s and 1970s. (Opens May 1)
Drawing on collections from across the University's libraries, Passports: Lives in Transition examines the timely issue of travel and immigration through archival documents, as well as items related to a Harvard student's story of Latino immigration to the United States, and a multimedia art installation about contemporary geopolitics and activism.
Harvard Art Museums
www.harvardartmuseums.org
Analog Culture: Printer's Proofs from the Schneider/Erdman Photography Lab, 1981-2001 highlights master printer Gary Schneider and those he worked with, including Richard Avedon, James Casabere, Nan Goldin, and David Wojnarowicz. A.K. Burns: Survivors' Remorse, a complementary installation, offers responses to the photographs. (Opening May 19) On May 21, Schneider and artist John Schabel will appear for a moderated discussion on "Photography as Performance."
Nam June Paik: Screen Play. Examples drawn from the museums' collections reflect  central themes of the multimedia artist's work, such as the "subversion of conventional technologies and media" and "the potential of moving images to explore alternative temporalities." (Opens June 30)
Harvard Museums of Science and Culture
www.hmsc.harvard.edu
The Summer Solstice Celebration offers activities, live music, and free admission at the Harvard Museum of Natural History, Peabody Museum, Semitic Museum, and Collection of Historical Scientific Instruments. (June 21)
Schlesinger Library
www.schlesinger75radcliffe.org
75 Stories, 75 Years: Documenting the Lives of American Women at the Schlesinger Library reveals the richness of its holdings (established in 1943 with the Woman's Rights Collection). Among the objects are a large-format camera used by early photojournalist Jessie Tarbox Beals, the 1986 "toilet paper diary" that itinerant poet Eleanor Skelton Cash kept while living in a homeless shelter, and a white Panama hat that belonged to surgeon Mildred Jefferson, M.D. '51, the first African-American woman to graduate from Harvard Medical School, and a longtime, influential anti-abortion activist.
Addison Gallery of American Art
www.addisongallery.org
Gun Country explores historical contexts and iconography through an array of firearms and related objects. Photographers Among Us highlights images dating from early reform movements, the Depression, and wartime to more modern portraits of communities and of the nation's changing natural landscapes.
Institute of Contemporary Art
www.icaboston.org
Caitlin Keogh: Blank Melody presents works that combine the fine lines and delicate color sense of a graphic artist with the brainy exploration of female forms and decorative motifs.(Opens May 9)
Concord Museum
www.concordmuseum.org
Objects, vestiture, and stories offer insight into the early American industries and marketplace in Fresh Goods: Shopping for Clothing in a New England Town: 1750-1900.
RISD Museum
www.risdmuseum.org
Theresa Ganz: Storm Diptych. The video installation by the artist (and assistant professor of visual art at Brown University) offers dramatic footage of rainstorms and hurricanes set to the first movement of Mozart's String Quartet No. 19. The work captures the moodiness and volatility of Romantic-era paintings and  underscores the current destruction of nature.
Museum of Fine Arts
www.mfa.org
Klimt and Schiele: Drawn compares and contrasts the artists' styles through rarely seen works on loan from the Albertina Museum in Vienna. (Through May 28)
Film
Harvard Film Archive
www.hcl.harvard.edu/hfa
The Complete Luchino Visconti presents Ossessione, Rocco and His Brothers, and Death in Venice, among other masterworks by the Italian theater, opera, and film director, who often explored themes of betrayal. (June 1-July 21)
The Complete Howard Hawks highlights the creative range of this hugely influential Hollywood director. Screenings include all of his extant works, including his silent films and To Have and Have Not, The Big Sleep, The Thing from Another World, and the newspaper-industry gem, His Girl Friday.  (June 8-August 5)
Lectures
The Radcliffe Institute for Advanced Study
www.radcliffe.harvard.edu
Composer Camilo Mendez, RI '18,  presents "Reimagining Musical Instruments: The Sounds of Impossible Objects in My Music," a concert of his recent works performed by the New York-based quartet Yarn/Wire. Knafel Center. (May 2)
Music
Boston Philharmonic Youth Orchestra
www.boxoffice.harvard.edu
The program includes Three Places in New England, by Charles Ives, and Till Eulenspiegel's Merry Pranks, by Richard Strauss. Sanders Theatre. (May 6)
Back Bay Chorale
www.boxoffice.harvard.edu
The group performs "Essential Voices: Ralph Vaughan Williams." Sanders Theatre. (May 13)