News
Adams House Will Be Renewed after Lowell
5.3.17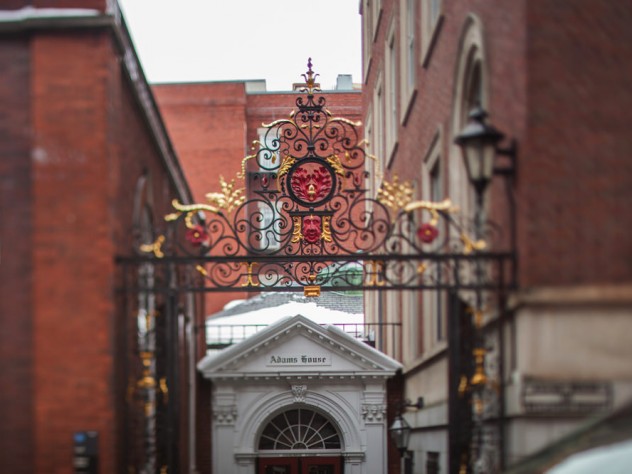 Photograph by Silvia Mazzocchin/Harvard Public Affairs and Communications
Photograph by Silvia Mazzocchin/Harvard Public Affairs and Communications
Adams House will be the sixth undergraduate residence to be renewed, House faculty deans Judy and Sean Palfrey announced in an email today. The renewal, like the renovations of other undergraduate Houses, will make Adams wheelchair-accessible, add new common spaces, and otherwise modernize infrastructure that has not been updated in decades.  
"[T]he renewal of Adams will follow Stone Hall (formerly Old Quincy), Leverett's McKinlock Hall, Dunster House, Winthrop House, which will reopen this fall, and Lowell House, which will break ground next month," the faculty deans wrote. "We see this as a great opportunity to bring the infrastructure of Adams House into the 21st century, to rewire and plumb it, make it wheelchair accessible, and polish its ancient walls to a new luster. If you haven't visited the wonderful renovations undertaken in other River Houses, please take the time to explore them.  We will be working with our Adams House community, new and old, architects, designers, residents of the recently renewed houses, and FAS leaders to plan the work. With refurbished residential suites, additional social spaces, music practice and performance venues, the house will be able to support student life in ways that our current spaces simply cannot."
Because the renewal of Lowell House, which will begin this summer, is unusually complex and expected to take two years, construction at Adams likely will not begin for a few years. The renovation is still pending approval from the Harvard Corporation.
The announcement now may represent a form of reassurance; given the enormous expense of the House Renewal project, the budgetary pressure on the Faculty of Arts and Sciences (FAS) in the wake of weak endowment returns, and FAS's resort to debt financing to proceed on the current renewal schedule, some uncertainty may have arisen about future projects. The extended calendar for the Lowell project means that it will conclude a year after the projected conclusion of The Harvard Campaign in mid 2018—by which time FAS will have a clearer idea about what philanthropic support it has been able to attract, and what other resources it will require to proceed on the Adams House renovation. Announcing that it is next in the queue provides some guidance, and allows time for the extensive planning and architectural and engineering work that will no doubt be required before renovation, given the unusual configuration of the historic Adams buildings.